Kenneth Noland
21 May - 20 Jun 2010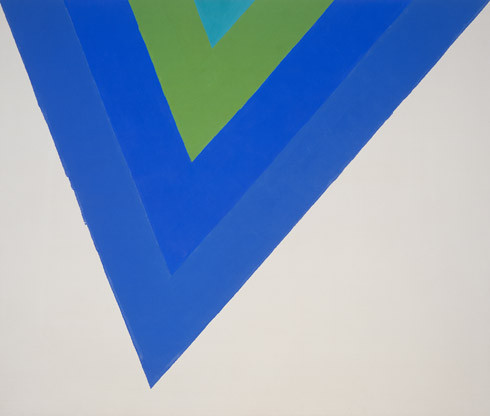 Kenneth Noland
Trans Shift, 1964
Acrylic on canvas
254 x 288.3 cm
Solomon R. Guggenheim Museum, New York, Purchased with funds contributed by Elaine and Werner Dannheisser and The Dannheisser Foundation 81.2812. © Estate of Kenneth Noland/Licensed by VAGA, New York, NY
KENNETH NOLAND
1924–2010: A Tribute
May 21–June 20, 2010

A key figure of postwar abstract painting, Kenneth Noland explored the essential qualities of color and surface throughout a career that spanned six decades. Noland was born on April 10, 1924, in Asheville, North Carolina. He attended the nearby Black Mountain College on the GI Bill from 1946 to 1948 before leaving for Paris, where he studied with the sculptor Ossip Zadkine and was introduced to the work of Henri Matisse. During his studies at Black Mountain in the late 1940s, and again in the summer of 1950, Noland was affected by the teachings of former Bauhaus master Josef Albers, who was the driving force at the school and who had brought with him from Germany an encyclopedic knowledge of twentieth-century European art. However, Noland's commitment to pure abstraction derived primarily from his studies with painter Ilya Bolotowsky.

Around this time, Noland also met critic Clement Greenberg, sculptor David Smith, and painters Helen Frankenthaler and Morris Louis, all of whom influenced his subsequent artistic development. Liberated from the constraints of European modernism and challenged by the groundbreaking work of the Abstract Expressionists, Noland experimented with Frankenthaler's "soak-stain" technique of applying thinned acrylic paint to unprimed canvas, fusing color and material. Starting in the early 1950s, Noland began producing a number of works that have been termed Post Painterly Abstraction and Color Field painting for their emphasis on clarity and control over the emotive gesture favored by the Abstract Expressionists. Kenneth Noland, 1924–2010: A Tribute commemorates the work of this American artist with one painting from each of his early series of concentric circles, chevrons, stripes, and shaped canvases.