Marking Time
Process in Minimal Abstraction
18 Dec 2019 - 02 Aug 2020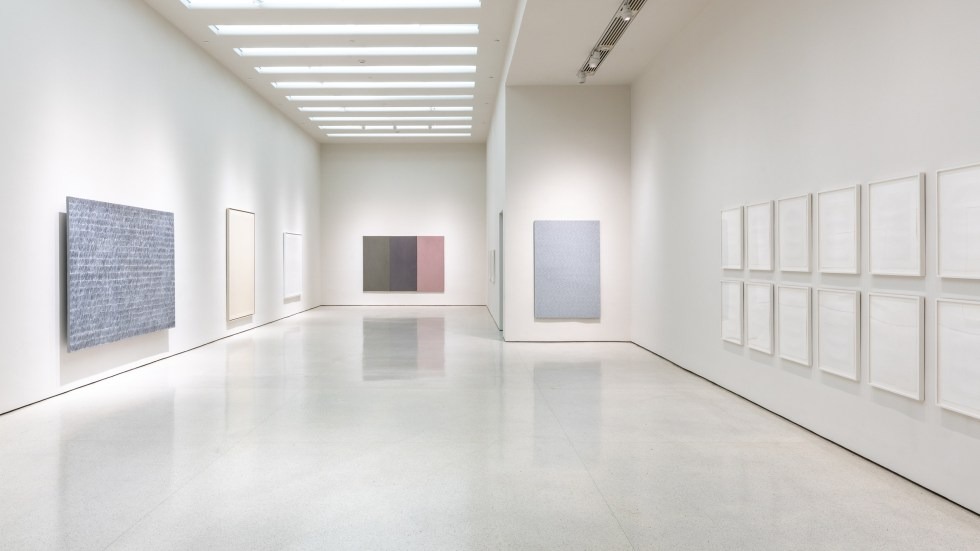 Installation view, Marking Time: Process in Minimal Abstraction, Solomon R. Guggenheim Museum, New York, December 18, 2019–August 2, 2020. Photo: David Heald
MARKING TIME
Process in Minimal Abstraction
18 December 2019 – 2 August 2020

During the 1960s and 1970s, many artists working with abstraction rid their styles of compositional, chromatic, and virtuosic flourishes. As some turned toward such minimal approaches, a singular emphasis on their interaction with materials emerged. The resulting pieces invite viewers to imaginatively reenact aspects of the creative process.

What unites the artists featured in Marking Time: Process in Minimal Abstraction is not necessarily a shared belief in what art should accomplish or express. Rather, the works on display reveal the artists' implicit trust in viewers' capacity to put themselves in the artist's position as they consider the object in front of them. Whether characterized by interlocking brushstrokes, a pencil moved through wet paint, or a pin repeatedly pushed through paper, the works make visible the ways in which they were produced, allowing for an intimate understanding of the duration, intensity, and rhythm that each required.

Featuring paintings and works on paper by Agnes Martin, Roman Opałka, Park Seo-Bo, and others, Marking Time explores how drawing attention to the creative process fosters a distinctively empathetic mode of engagement.

Marking Time: Process in Minimal Abstraction is organized by David Max Horowitz, Assistant Curator, Solomon R. Guggenheim Museum.

Major support for Marking Time: Process in Minimal Abstraction is provided by Elizabeth Richebourg Rea.