Monir Shahroudy Farmanfarmaian
12 Mar - 02 Jun 2015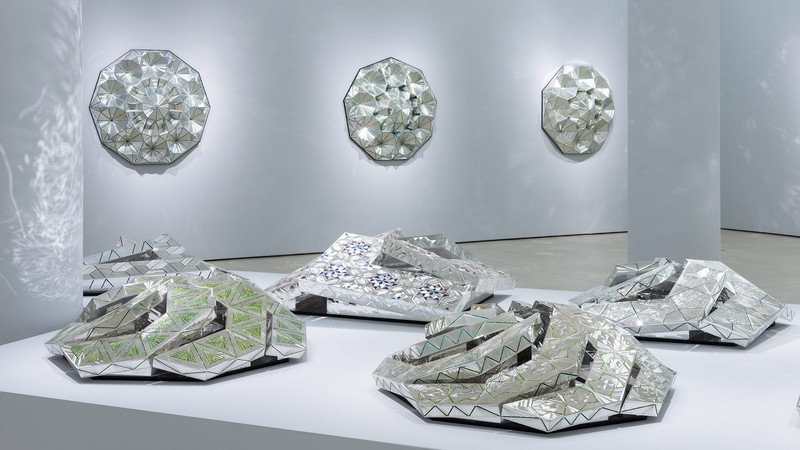 Monir Shahroudy Farmanfarmaian: Infinite Possibility. Mirror Works and Drawings 1974–2014, Solomon R. Guggenheim Museum, New York, March 13–June 3, 2015. Photo: Kristopher McKay
MONIR SHAHROUDY FARMANFARMAIAN
Infinite Possibility. Mirror Works and Drawings, 1974–2014
12 March – 2 June 2015

This is the first U.S. museum exhibition of mirror works and drawings by Iranian artist Monir Shahroudy Farmanfarmaian (b. Qazvin, Iran, 1924). Considered in relation to the Guggenheim's historical commitment to abstraction, this presentation examines the artist's rich body of work in its own right and as part of a transnational perspective on artistic production and its reception. After formative years in New York from 1945 to 1957, during which she met artists Milton Avery, Willem de Kooning, Joan Mitchell, Louise Nevelson, Barnett Newman, and, later, Andy Warhol, among others, Monir returned to Iran. There, she further developed her artistic sensibility through encounters with traditional craftsmanship, indigenous art forms such as Turkoman jewelry and clothing, coffee house paintings (a popular form of Iranian narrative paintings), and the technique of reverse-glass painting, resulting in a period of artistic discovery that culminated in commissions in Iran and exhibitions in Europe and the United States. The Islamic Revolution in 1979 marked the beginning of Monir's 26-year exile in New York, during which she focused on drawing, collage, commissions, and carpet and textile design. In 2004, when she finally returned to Iran, she reestablished her studio there and resumed working with some of the same craftsmen she had collaborated with in the 1970s.

This presentation includes plaster and mirror reliefs, large-scale mirror sculptures the artist refers to as "geometric families," and works on paper, revealing the central role drawing has played in Monir's practice and focusing on a sculptural and graphic oeuvre developed over more than 40 years (many examples of which have not been displayed publicly since the 1970s). This body of work is characterized by a merging of visual and spatial experience, coupled with the aesthetic traditions of Islamic architecture and decoration. Her use of geometry as form allows for, in the artist's words, "infinite possibility."
Monir Shahroudy Farmanfarmaian: Infinite Possibility. Mirror Works and Drawings 1974–2014 is organized by the Serralves Museum of Contemporary Art, Porto, Portugal.
The Leadership Committee for Infinite Possibility is gratefully acknowledged for its support, with special thanks to Simin N. Allison, Maryam Eisler, Maryam Panahy Ansary, Nader Ansary, The Soudavar Memorial Foundation, Mohammed Afkhami, Patricia and Alexander Farman-Farmaian, Tad and Jackson Freese, Haines Gallery, Yasmine Nainzadeh and Sara Nainzadeh, Nazgol and Kambiz Shahbazi, The Third Line, Taymour Grahne, and Roya and Massoud Heidari.