Tacita Dean
23 Feb - 06 Jun 2007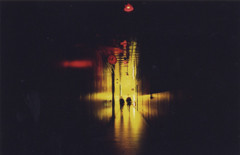 © Tacita Dean, Still from Kodak, 2006. 16mm color and black-and-white film, with optical sound, 44 minutes. Edition of 4, 1 A.P. Courtesy Marian Goodman Gallery, New York and Paris, and Frith Street Gallery, London
The Hugo Boss Prize 2006

TACITA DEAN
February 23–June 6, 2007

Throughout her oeuvre, which includes such diverse mediums as drawing, sound, found photographs, and film, Tacita Dean (b. 1965, England) has investigated our culture of obsolescence, exploring such themes as architectural relics, portraiture, history, and memory. But it is perhaps the compelling 16mm films that highlight cinematic properties for which the artist is best known. Dean has a particular relationship to the medium, for she is related to two of Great Britain's cinema pioneers, Basil Dean (1888–1978) and Michael Balcon (1896–1977), production heads of the celebrated Ealing Studios. Her films, which more often resemble meditative portraits of a place than narrative accounts, have explored traces of modern myths, such as sailors lost at sea; natural phenomena, including a solar eclipse and the flash of a green ray that can occur at sunrise and sunset; as well as Berlin's architectural relics of its formerly divided past.

On view in this exhibition are three works—Kodak, Noir et Blanc, and Found Obsolescence (all 2006)—that address the medium of celluloid film, a format that is becoming increasingly scarce as it is replaced by digital alternatives. Engaging a wide-spread debate, Dean describes the superior ability of film "to make as near as perfect simulacrum of our visual world, which digital still fails to replicate despite its increasing proliferation of pixels." While digital formats are becoming increasingly more sophisticated, film is still considered to capture light more accurately, achieve greater clarity and depth of field, and also better depict blacks, distinctions highlighted by the films on view here. Dean became acutely aware of the threat to her chosen medium when she was unable to obtain standard 16mm black-and-white film for her camera. Upon discovering that the Kodak factory in Chalon-sur-Saône, France, was closing its film production facility, Dean obtained permission to document the manufacture of film at the factory, where cameras have never before been invited. The resulting rear-screen projection Noir et Blanc, filmed on the final five rolls Dean acquired, turns the medium on itself. The 44-minute-long work Kodak constitutes a contemplative elegy for the approaching demise of a medium specific to Dean's own practice. Kodak's narrative follows the making of celluloid as it runs through several miles of machinery and explores the abandoned corners of the factory. On the day of filming, the factory also ran a test through the system with brown paper, providing a rare opportunity to see the facilities fully illuminated, without the darkness needed to prevent exposure, and underscoring the luster of the celluloid as the dull brown strips contrast with the luminous, transparent polyester. Also on view is a relic of Dean's visit- Found Obsolescence is a strip of unexposed 16mm negative found in the factory's sprocket machine, the holes abruptly stopping before production was completed.

Dean frequently draws viewers' attention to overlooked or unseen aspects of her subject in all media. In 2005, she began work on a series of found postcards featuring trees, which she modified with overpainting. Following this, Dean similarly treated enlarged photographs that she had taken of monumental trees in southeastern England. Majesty (portrait) (2007), the fourth work on view, consists of a photograph of a noble oak tree, upon which Dean has painted over the background with white pigment, removing any excess details and leaving the subject ever so more imposing in its solemnity.

Established in 1996 to recognize significant achievements in contemporary art, the Hugo Boss Prize is a biennial award administered by the Solomon R. Guggenheim Foundation and presided over by an international jury of museum directors, curators, and critics. The prize carries with it an award of $50,000. Past winners of the prize are: Matthew Barney (1996), Douglas Gordon (1998), Marjetica Potrc (2000), Pierre Huyghe (2002), and Rirkrit Tiravanija (2004).