Art And Space
05 Dec 2017 - 08 Apr 2018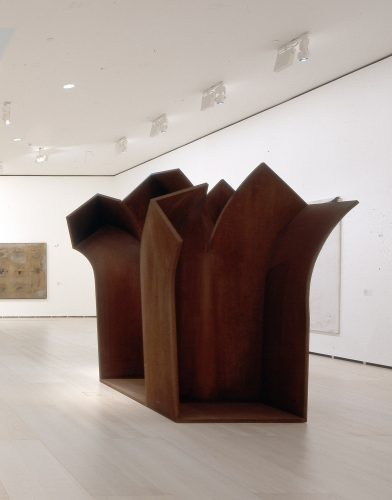 Eduardo Chillida
Advice to Space V (Consejo al espacio V), 1993
Steel, 305 x 350 x 350 cm
Guggenheim Bilbao Museoa
ART AND SPACE
5 December 2017 – 8 April 2018

The point of departure of Art and Space is the collaboration between Basque sculptor Eduardo Chillida and German philosopher Martin Heidegger in 1969, which resulted in the publication of an artist book whose title inspired that of this exhibition. By updating and fleshing out concepts and questions embedded in that extraordinary dialogue, this show presents more than 100 works by international artists and offers itself as a reinterpretation of the history of abstraction in the past six decades.

Art and Space also pays tribute to the inexhaustible capacity of Frank Gehry's building to generate unique dialogues between its breathtaking spaces and fundamental works from the modern and contemporary era. Starting with key works from the Guggenheim Museum Bilbao Collection and featuring selections from the Constellation of Guggenheim Museums, along with other loans from major leading collections, this exhibition is a celebration of place and architecture through art. Following Heidegger in Art and Space, the show provides perspectives on the different ways a work of art "takes over the space" and the space "traverses the work of art." Likewise, it proposes the analysis of this correlation between spaces and volumes by exploring the connections and silent conversations between the works and the forces that structure them—gravity, light, balance—yet also between artistic creation and philosophical thinking, their forms and materials. This historically and geographically complex dialogue clearly extends beyond the Western context to survey multiple artistic disciplines constantly reappearing in contemporary practices.