Egon Schiele
02 Oct 2012 - 06 Feb 2013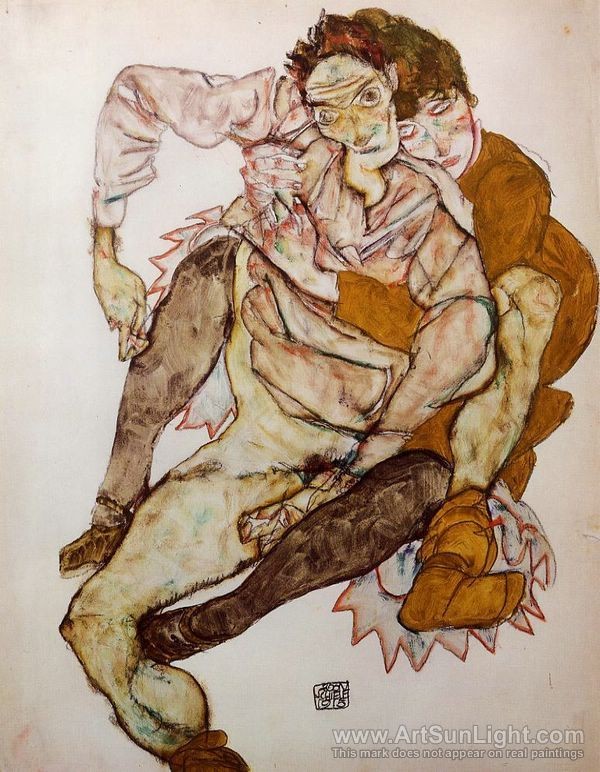 Egon Schiele
Seated Couple (Sitzendes Paar), 1915
Albertina, Vienna
Pencil, brush, and watercolor on laminated cardboard
51.8 x 41 cm
EGON SCHIELE
2 October 2012 - 6 January 2013

The Vienna Albertina boasts one of the world's largest and most important collections of works on paper, with approximately 50,000 drawings and watercolors and around 900,000 graphic works from the late Gothic period to the present day. The collection's modern section features works by Gustav Klimt and Oskar Kokoschka, Pablo Picasso and Jackson Pollock, and the more recent Robert Rauschenberg. Expanding the Austrian art collection has always been a priority for the directors of the Albertina, even after 1945, and it was Director Otto Benesch (1896-1964) who decided to acquire extraordinary works by Gustav Klimt, Oskar Kokoschka and Alfred Kubin to complement the old master drawings in the museum collection. The selection of works by the artist Egon Schiele is particularly striking by virtue of their quality and depth.

This exhaustive exhibition, which features around ninety pieces by Schiele from the Albertina's collection of graphic work, offers sweeping vision of the art of this great Austrian Expressionist. In his creations, Schiele employed processes such as the decorative use of flat surfaces and the flowing ornamental lines of the Vienna Secession style to develop a highly personal, unique form of Expressionism. For this reason, one section of the show is dedicated to another genre which he favored: the self-portrait.