Garmendia, Maneros Zabala, Salaberria
31 Oct 2013 - 16 Feb 2014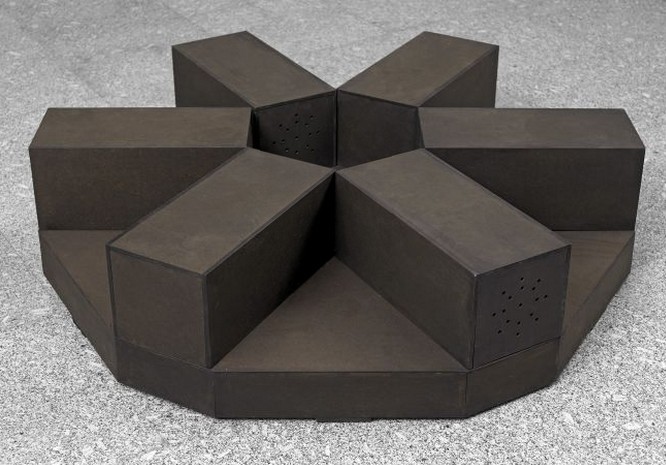 Iñaki Garmendia
Untitled (Six Peaks) (Sin título [seis picos]), 2011
Modular MDF construction, with loudspeakers
147 x 36 cm
Artium, Vitoria-Gasteiz
GARMENDIA, MANEROS ZABALA, SALABERRIA
Process and Method
31 October 2013 – 16 February 2014

Curated by: Lucía Agirre and Álvaro Rodríguez Fominaya

This exhibition is devised as a set of three autonomous and interdependent structures containing the work of Iñaki Garmendia, Erlea Maneros Zabala, and Xabier Salaberria where a feedback process takes place among the three artists. Each of these structures sets out to revise the path of these artists whilst presenting a new work that has been created specifically for the exhibition that will become part of the Museum funds.

There is no superficial homogeneity which immediately ties these artists' praxis together; rather this nexus takes shape beneath the surface, and in this sense it is more complex to dissect. If we had to pinpoint a link between the works of Garmendia, Maneros Zabala, and Salaberria, the common thread could be found in History as a subject of inquiry and in the constant revision in which all three are engaged. However, beyond History as a subject, something else emerges more subtly and imperceptibly, something which we sometimes call a "shared sensibility" and which other times we define as a "process and method" when referring to this genealogy from an analytical standpoint. Deconstruction of History and appropriation are common strategies in Iñaki Garmendia, Erlea Maneros Zabala, and Xabier Salaberria's art, where the processes of recreation and reinterpretation also reflect how they approach the idea of art.