L'art en guerre. France, 1938–1947: from Picasso to Dubuffet
16 Mar - 08 Sep 2013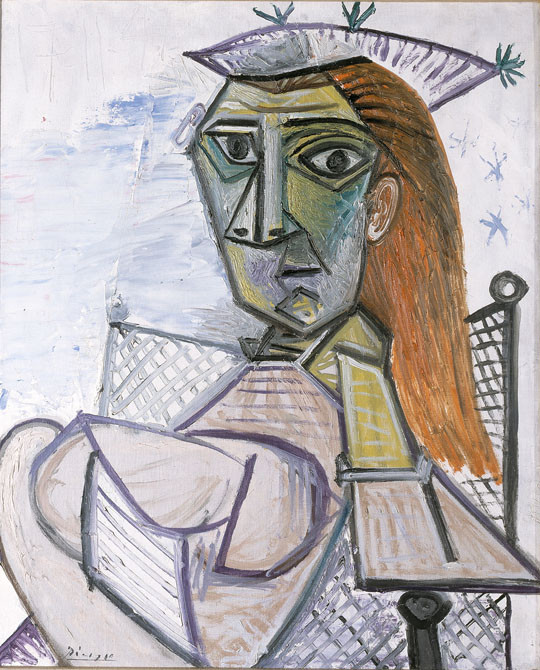 Pablo Picasso
Woman Sitting in an Armchair (Femme assise dans un fauteuil), 1941
Oil on canvas
73 x 60 cm
Henie Onstad Kunstsenter, Høvikodden, Norway
© Henie Onstad Art Centre, Norway / Photo Øystein Thorvaldsen
© Sucesión Pablo Picasso, VEGAP, Madrid 2013
L'ART EN GUERRE. FRANCE, 1938–1947: FROM PICASSO TO DUBUFFET
16 March – 8 September 2013

Organized by the Musée d'Art moderne de la Ville de Paris, Paris-Musées and the Guggenheim Museum Bilbao, this exhibition shows how, in the ominous and oppressive context of France's defeat during World War II and Nazi occupation, the artists of the day rebelled against official slogans by coming up with novel aesthetic solutions that changed the future of art.

More than 500 works by some 100 artists, including Georges Braque, Jean Dubuffet, Marcel Duchamp, Alberto Giacometti, Vasily Kandinsky, Pablo Picasso and Joseph Steib, testify to how these creators resisted and reacted to adversity, "making war on war" with the only forms and materials available in those times of penury, even in environments of incredible hostility toward any expression of individual freedom. This unique exhibition reveals what until this time had remained in the shadows of History.