Painterly Abstraction, 1949-1969
14 Jun 2011 - 08 Jan 2012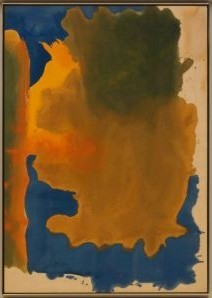 Helen Frankenthaler
Canal [Itsasertza (Canal)], 1963
Solomon R. Guggenheim Museum, New York
Acrylic on canvas
205.7 x 146 cm
Purchased with the aid of funds from the National Endowment for the Arts, in Washington, D.C., a Federal Agency; matching funds contributed by Evelyn Sharp
PAINTERLY ABSTRACTION, 1949-1969:
Selections from the Guggenheim Collections
14 June, 2011 - 8 January, 2012

Based mainly around works in the Solomon R. Guggenheim Foundation and the Guggenheim Museum Bilbao Collections, this exhibition explores the most important trends in US and European art in the 1950s and 1960s, revealing the surprising affinities in art on both continents. In the United States, the postwar period saw the appearance of its first internationally influential avant-garde movements, with the appearance of Abstract Expressionism, Colorfield painting, and Pop Art. In Europe, the CoBrA group, the Tachisme, and Art Informel shared Abstract Expressionism's tendency to reject traditional forms of composition in favor of more gestural painting. Included in the exhibition are works by major artists like Jackson Pollock, Willem de Kooning, Ellsworth Kelly, Robert Rauschenberg, Karel Appel, Alberto Burri, Antoni Tàpies, Yves Klein, Jean Tinguely, and Piero Manzoni, among others.