The Art of Our Time
23 Sep 2014 - 03 May 2015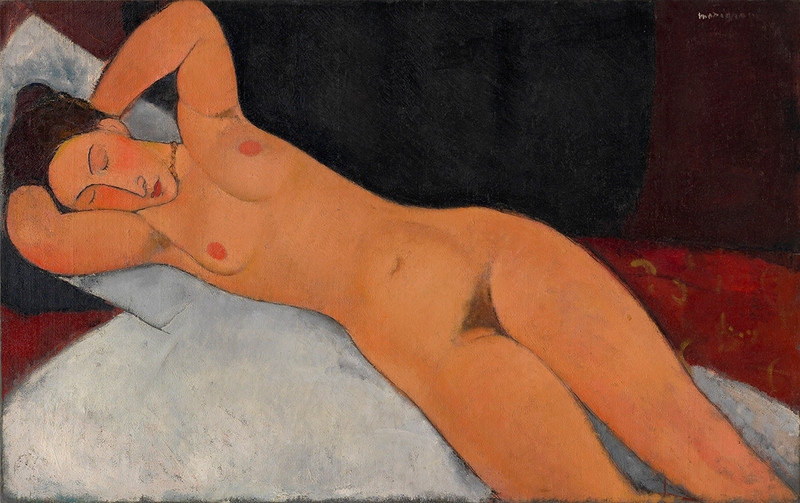 Amedeo Modigliani
Nude (Nu), 1917
Oil on canvas
73 x 116.7 cm
Solomon R. Guggenheim Museum, New York
Solomon R. Guggenheim Founding Collection, By gift 41.535
THE ART OF OUR TIME
Masterpieces from the Guggenheim Collections
23 September - 3 May 2015

The Art of Our Time: Masterpieces from the Guggenheim Collections celebrates 20 years of partnership between the Solomon R. Guggenheim Foundation and the Guggenheim Museum Bilbao. This exhibition, which echoes the museum's inaugural presentation in 1997, reveals how the collections of the Guggenheim constellation of museums have grown and flourished over the years, and it also traces the how the Guggenheim Museum Bilbao has evolved into maturity as an international exemplar.

Following a loose chronology, the exhibition starts on the third floor and reveals the historical configuration of the collections and synergies that have emerged among them. The show begins at the dawn of the 20th century, a time marked by the triumph of avant-garde movements that, armed with utopian ideals and ambitions for political change, challenged the rich figurative legacy of Western art and advocated new approaches that looked beyond mere aesthetic concerns. This section also features two significant and independent monographic groups of sculptures from the Bilbao Collection—one dedicated to Jorge Oteiza and the other to Eduardo Chillida.

Most of the second floor is given over to large-format works, such as a mural by Sol LeWitt created specifically for the gallery in which it is shown and works by Anselm Kiefer presented in the gallery for which they were acquired. The first floor, devoted to the most recent creations, reflects the Guggenheim's engagement with new centers of contemporary artistic production around the world.

Complementing the works above are the site-specific works in galleries 101 and 104, commissioned in keeping with one of the museum's fundamental acquisition policies: Jenny Holzer's Installation for Bilbao (1997) and Richard Serra's sculptural group The Matter of Time (1994–2005). The exhibition also leads visitors outdoors to explore works on the museum's grounds that strike up provocative dialogues with their surroundings: Yves Klein's volatile Fire Fountain (1961, fabricated 1997) and Fujiko Nakaya's Fog Sculpture #08025 (F.O.G.) (1998) in the pond; Louise Bourgeois's monumental Maman (1999), Anish Kapoor's Tall Tree & the Eye (2009), and Jeff Koons's Tulips (1995–2004) overlooking the river; Chillida's Embrace XI (1996) on the second-floor terrace; Koons's Puppy (1992) in the museum plaza; and Arcos rojos / Arku gorriak (2007), Daniel Buren's intervention on La Salve Bridge.