A Few Free Years: From Absalon to Zobernig
28 Nov 2015 - 12 Mar 2016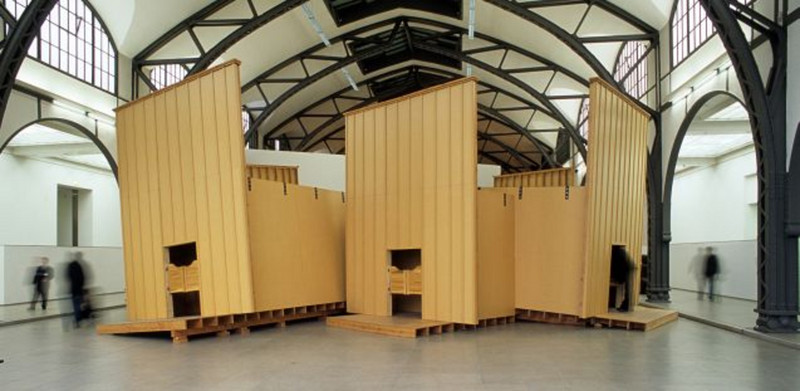 Paul McCarthy
Saloon Theater, 1995 – 1999, 2008
Schenkung der Friedrich Christian Flick Collection © Courtesy Paul McCarthy und Hauser & Wirth, Staatliche Museen zu Berlin, Nationalgalerie im Hamburger Bahnhof, Foto: Roman März
A FEW FREE YEARS: FROM ABSALON TO ZOBERNIG
Donations by Friedrich Christian Flick to the Nationalgalerie
28 November 2015 – 13 March 2016

The Friedrich Christian Flick Collection has been on view in a series of rotating exhibitions at the Hamburger Bahnhof since 2004. With each showing, the Nationalgalerie has presented to the public a different facet of a contemporary art collection of exceptional stature. For the Staatliche Museen zu Berlin, it is an extraordinary stroke of good fortune that in the course of this cooperation, the collector Friedrich Christian Flick has decided to donate some 268 works to the Nationalgalerie in all.

Now, in an exhibition entitled 'A Few Free Years', the Hamburger Bahnhof presents a selection of the works, donated in the period 2008 to 2014. The works mostly date from the 1960s onwards and are by more than 60 renowned North American and European artists. Their whole-room installations, paintings, sculptures, drawings, photographs, films, and videos dovetail perfectly with the Nationalgalerie's holdings of contemporary art. On show are installations by Richard Jackson, Paul McCarthy, Dieter Roth, Jason Rhoades, and Bruce Nauman, photographs by Cindy Sherman and Wolfgang Tillmans, and films by Marcel Broodthaers, David Claerbout, and Nathalie Djurberg, to name but a few.