Emil Nolde
12 Apr - 15 Sep 2019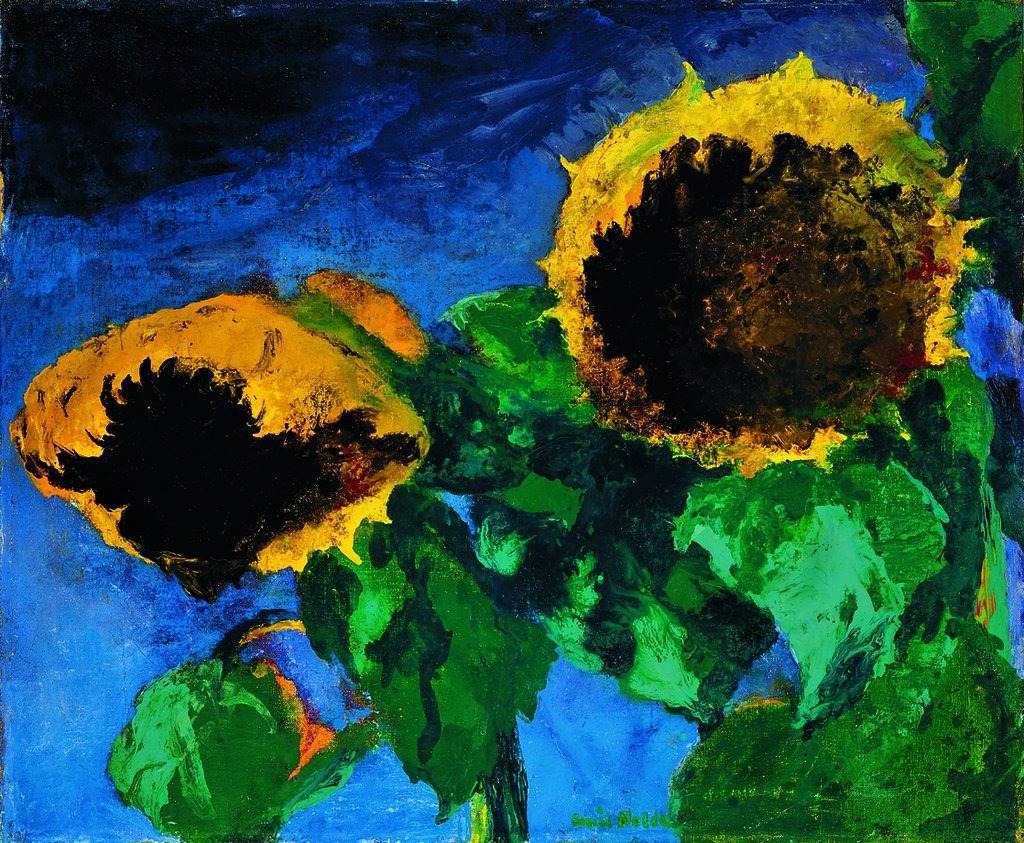 Emil Nolde, Reife Sonnenblumen, 1932, Öl auf Leinwand, 73,5 × 89 cm, Detroit Institute of Arts, Gift of Robert H. Tannahill, © Nolde Stiftung Seebüll
Emil Nolde. A German Legend. The Artist during the Nazi Regime
12.04.2019 to 15.09.2019

The Expressionist Emil Nolde (1867–1956) is arguably the most famous "degenerate artist". No other artist had as many works confiscated, nor were their works as prominently displayed in the early venues of the 'Degenerate Art' exhibition of 1937/38.

How does Nolde's ostracism and professional ban fit with our knowledge that he was a Nazi Party member, and that he kept faith with the regime until the end of the war? The art critic Adolf Behne underlined Nolde's special status on the occasion of the artist's eightieth birthday in 1947, by pointedly referring to him as a "degenerate 'degenerate'". It has long been known that Emil Nolde was a party member. Yet no previous exhibition has thoroughly examined how this relates to his art, or how the historical circumstances during National Socialism affected his artistic production.

Noldes Seebüll in the exhibition
The exhibition Emil Nolde – A German Legend. The Artist during the Nazi Regime is based on the results of a multi-year academic research project which for the first time was able to analyse the extensive holdings of the Nolde estate in Seebüll, uncovering so much new material that the conventional Nolde narrative must be revised. Thus, for example, the exhibition will present the famous "Unpainted Pictures" – the smallformat watercolours Nolde was reputed to have secretly painted at Seebüll during his occupational ban – in a completely new light, explaining them as part of long-standing practice of self-stylisation.

Over 100 new originals shown
The exhibition presents over 100 originals, some of which have not previously been shown, with references to Nolde's writings and in the historical context of their creation, in order to reveal the multi-layered relationships between paintings, the artist's self-presentation, his ostracism, and development of his legend.

What impact did the 'Third Reich' have on Emil Nolde's artistic work?
To what extent do some of his works, such as his depictions of mythic sacrificial scenes or 'Nordic' people, correspond with his sympathies for the regime?
What effects did Nolde's defamation and professional ban have on his artistic practice and political outlook?
And how did the myths about Nolde develop in the post-war period?
The centrepiece of the exhibition is a reconstruction of the 'painting gallery' in Nolde's studio house in Seebüll, a display of paintings and watercolours just as the ageing artist himself arranged them during the wartime winter of 1941/42.

An exhibition by the Nationalgalerie, Staatliche Museen zu Berlin, in cooperation with the Nolde Foundation Seebüll, curated by Bernhard Fulda, Christian Ring and Aya Soika, made possible by the Freunde der Nationalgalerie and supported by the Friede Springer Stiftung.