Ernst Ludwig Kirchner
23 Sep 2016 - 26 Feb 2017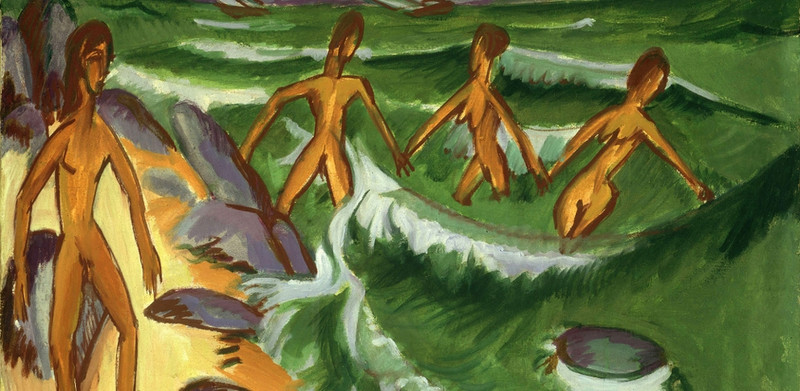 Ernst Ludwig Kirchner, Badende am Strand (Fehmarn), 1913, Öl auf Leinwand
© bpk / Staatliche Museen zu Berlin, Nationalgalerie / Jörg P. Anders
ERNST LUDWIG KIRCHNER
Hieroglyphics

From September 23, 2016 to February 26, 2017, Neue Galerie at Hamburger Bahnhof – Museum für Gegenwart – Berlin will be showing all works by Ernst Ludwig Kirchner from the Nationalgalerie's collection, complemented by contemporary works by Rosa Barba and Rudolf Stingel.

For Ernst Ludwig Kirchner, painting is an act of translation. In Kirchner's paintings like Potsdamer Platz the dynamism of the metropolis, felt as "ecstatic," is revealed not just in the sketch-like painting style, but especially in the paintings' strong formal condensation. The round traffic island at Postdamer Platz where the gaunt women pose or the figures created using rough brushstrokes stand for the patterns of the urban: they are merely signs or symbols. Regarding his city paintings, Kirchner spoke of "hieroglyphs as signs of expression." Immediate ecstasy, Kirchner wrote, leads already in the preliminary sketch to "complete hieroglyphs." The variety of visual experience, "ecstasy," is reduced to abbreviations, to eloquent details such as hats, shoe tips, window frames, or bridge arches. Kirchner's painterly oeuvre thus consists primarily of a world of open sketches and drawings, of "hieroglyphs" that are not always completely legible.

With this focus, the exhibition directs attention toward the 18 works by the artist in the museum's own collection: from the early Seated Nude of the Dresden Brücke period, to Bathers on the Beach (Fehmarn) and dense works like Max Liebermann in his studio from the artist's late oeuvre. Hardly any other museum in Germany can present the wide variety of Kirchner's work so impressively. Several Kirchner photographs and books and drawings complement the presentation at Hamburger Bahnhof, underscoring the cultural charge of these apparently so direct and immediate visual worlds.

The exhibition is framed by two contemporary works: the film work Hidden Conference by Rosa Barba shows the collection of Nationalgalerie in the twilight of the depot, where all the contours dissolve and the pieces of the collection become mere schematic outlines, almost spectral phenomena. In his large-scale painting Stafelalp, Rudolf Singel illuminates the sketch-like aspect of photography. Although the painting is entirely based on Kirchner's photography, the lines separating past and present blur.

The exhibition is made possible by the Verein der Freunde der Nationalgalerie.