Otto Mueller
PAINTER. MENTOR. MAGICIAN.
12 Oct 2018 - 03 Mar 2019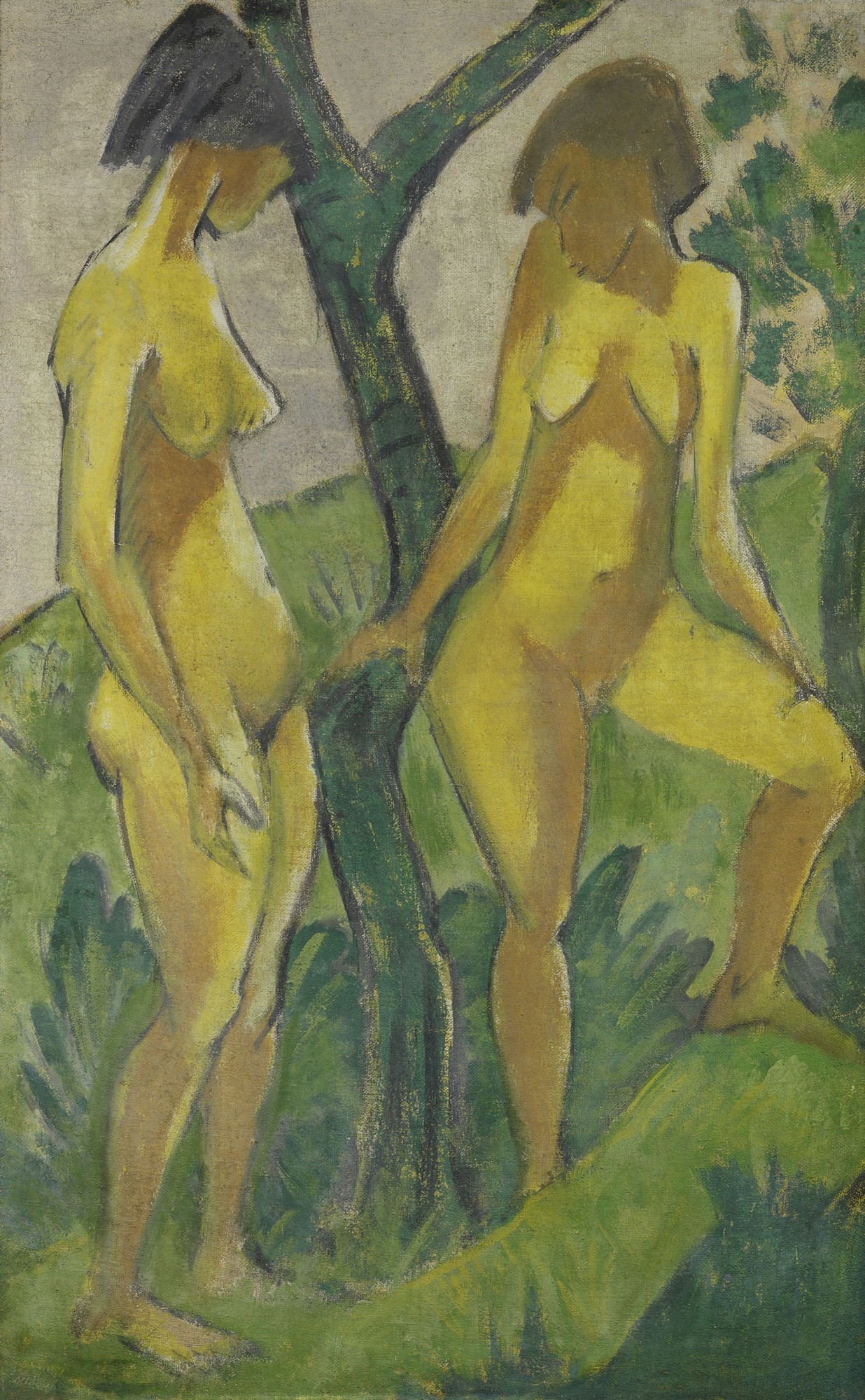 Otto Mueller, Two Girls, around 1925, distemper on hessian
© bpk / Staatliche Museen zu Berlin, Nationalgalerie / Jörg P. Anders
PAINTER. MENTOR. MAGICIAN.
Otto Mueller and his Network in Wrocław
12 October 2018 - 3 March 2019

The exhibition PAINTER. MENTOR. MAGICIAN. is the first to spotlight the enormous influence of the former Brücke artist and expressionist Otto Mueller (1874–1930): for over ten years the artist was engaged as a teacher at the State Academy of Arts and Crafts in Wrocław, which at that time was one of the most progressive schools of art in Europe. Particularly from the 1920s onwards, the Wrocław Academy had a reputation for cosmopolitanism and liberality, thanks to the numerous new appointments made by the director at that time, Oskar Moll. This was a place where the many-faceted movements in modern art stood side by side as equals: Expressionism with Otto Mueller, French Peinture of the Académie Matisse with Oskar Moll, New Objectivity (Neue Sachlichkeit) with Alexander Kanoldt and Carlo Mense and Bauhaus with Oskar Schlemmer, Georg Muche or Johannes Molzahn.

The main focus of the exhibition is on modernist painting: Otto Mueller and his network experienced a creative phase in Wrocław which they described as highly productive and a direct result of their exchanges and reciprocal influence. The ways in which the artist colleagues influenced each other become apparent through thematic similarities and other cross-references: in paintings, works on paper, written statements or photographs. And it was the charismatic Otto Mueller, driven by longing and a thirst for freedom, who had the greatest influence on the Breslau art scene. From the comments of his closest associates, including art critics and writers, he seems to have been a 'romantic' and even a 'magician'. He had already been immortalised by Carl Hauptmann in his biography of an artist "Einhart der Lächler" (1907) – and with this the Silesian poet laid an important foundation stone for the myth later to surround the artist.

Mueller's striking appearance and his anti-bourgeois way of living held an enormous fascination for his students at the Academy, men and women alike. They loved his total commitment to art, his unconventional teaching methods and his humor. Some of his students – such as Alexander Camaro or Horst Strempel – went on from Wrocław to Berlin and experienced here the zeniths of their artistic careers.

One special feature of the curatorial concept of PAINTER. MENTOR. MAGICIAN. is the 'guest exhibit' principle: what is meant by this are selected works that spotlight the intercultural similarities and differences over the epochs, particularly in the German-Polish context. The inclusion of 'Polish Expressionists' provides unique visual com-parisons and new correlations and at the same time underlines the German-Polish orientation of the exhibition.

The immense appreciation for Otto Mueller's work – from the perspective of his artist network – extends into post-war modernism: an important chapter of German-Polish art history is retold in special consideration of the interaction between the cities of Berlin and Wrocław.

This reflects the relations between the Nationalgalerie in Berlin and the former Silesian Museum of Fine Arts in Wrocław (today Muzeum Narodowe in Wrocław) which were characterized by intensive exchange and collaboration. One paradigmatic example of this was the Otto Mueller Memorial Exhibition initiated by Director Erich Wiese in Wrocław in 1931 – shortly after the death of the celebrated expressionist – which was adopted that same year by Ludwig Justi, Director of the Nationalgalerie as a commemorative exhibition in Berlin.

The present exhibition PAINTER. MENTOR. MAGICIAN. follows the opposite route. It has been developed in Berlin and will go on to be shown in Wrocław in a modified form. In Berlin the exhibition continues the sequence of presentations on Classic Modernism that have been shown during the renovation of the Neue Nationalgalerie at Hamburger Bahnhof – Museum für Gegenwart – Berlin: "The Black Years. Histories of a Collection: 1933–1945", "Ernst Ludwig Kirchner: Hieroglyphs" and "Rudolf Belling. Sculptures and Architectures".

List of artists: Jankel Adler, Alexander Archipenko, Isidor Aschheim, Henryk Berlewi, Alexander Camaro, Johnny Friedlaender, Grete Jahr-Queißer, Alexander Kanoldt, Ernst Ludwig Kirchner, Ludwig Peter Kowalski, Margarete Kubicka, Stanisław Kubicki, Wilhelm Lehmbruck, Carlo Mense, Oskar Moll, Marg Moll, Johannes Molzahn, Georg Muche, Otto Mueller, Żdzisław Nitka, Oskar Schlemmer, Willy Schmidt, Horst Strempel, Heinrich Tischler, Witkacy, i.a.

A comprehensive catalogue of the same name, compiled by German and Polish experts, will be published by Kehrer Verlag to accompany the exhibition. Edited by Dagmar Schmengler, Agnes Kern and Lidia Głuchowska. Two separate language editions (German and Polish) will be available as from October 2018. Catalogue realisation by: ZEIT-Stiftung, Ernst von Siemens Kunststiftung

1. station
12.10.2018-3.3.2019, Hamburger Bahnhof – Museum für Gegenwart – Berlin
2. station
8.4.2019-30.6.2019, National Museum Wrocław

An exhibition by the Nationalgalerie, Staatliche Museen zu Berlin, in collaboration with the Alexander and Renata Camaro Foundation and the Muzeum Narodowe we Wrocławiu.

The exhibition is made possible by: Freunde der Nationalgalerie, Hauptstadtkulturfonds, Kulturstiftung der Länder, Ernst von Siemens Kunststiftung, Stiftung für deutsch-polnische Zusammenarbeit, Stiftung Preußische Seehandlung

On the occasion of 100 years of Bauhaus.