Baltic Raw - Open Museum
17 Aug - 30 Sep 2012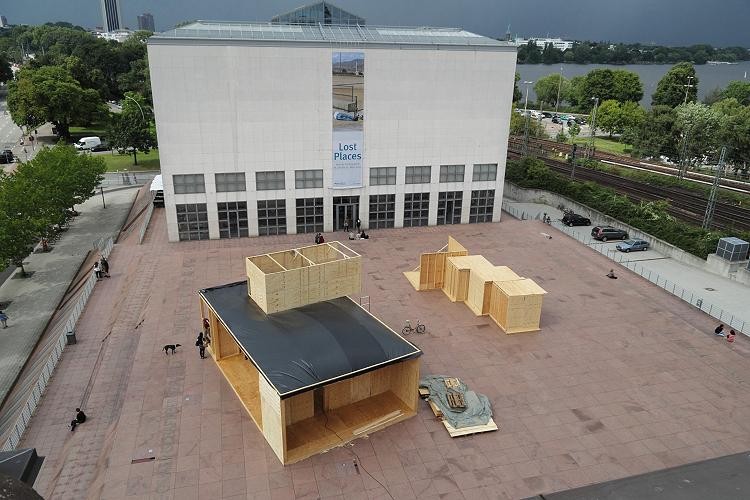 Baltic Raw, Open Museum auf dem Plateau der Galerie der Gegenwart, 01.08.2012,
© Hamburger Kunsthalle, Photo: Wolfgang Ernst
BALTIC RAW - Open Museum
Curator, Hamburger Kunsthalle: Dr. Brigitte Kölle
17 August - 30 September 2012

The Gallery of Contemporary Art welcomes a special guest to its 15th anniversary celebrations: for a period of six weeks, the Hamburg-based artists' group BALTIC RAW is transforming the plateau in front of the Hamburger Kunsthalle into an artistic venue called the Open Museum. The project is based around a simple, open-sided plywood structure and a number of satellite-like display units, which can be compared to walk-in wooden sculptures. The modular spatial elements have been built according to principles of serial construction and provide a simple, functional architectural framework for a wide-ranging programme of visual art, performance, film and musical events. The Open Museum is a site of open-ended, participatory activities where things are constantly developing and evolving, and visitors are encouraged to see themselves as participants and contributors. These transitory, open forms of production provide an opportunity to reflect upon what a museum is or can be, and at the same time they are an artistic reflection upon how social participation in public space can be established and promoted.
Founded in 2002 in Hamburg, BALTIC RAW is a group of artists, architects and dramatists gathered around Berndt Jasper, Móka Farkas and Christoph Janiesch. The programme of the Open Museum has been curated by BALTIC RAW.
Opening hours of the Open Museum: the Open Museum is open all day for visitors to view; events taking place on selected evenings will start between 5 p.m. and 7 p.m.