Collection display
19 Mar - 06 May 2012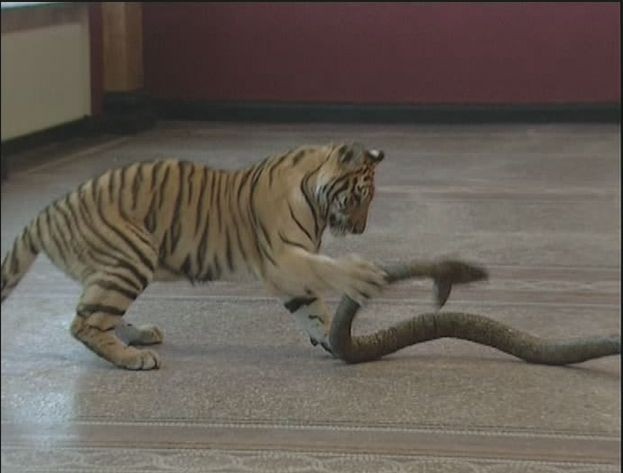 Peter Friedl
Tiger oder Löwe, Videoinstallation 2000 Farbe, Ton, DVD, PAL, 2:12 Min. © Hamburger Kunsthalle 2012
COLLECTION DISPLAY
Transit
19 March – 6 May, 2012

The Galerie der Gegenwart at the Hamburger Kunsthalle was opened in 1997, and its 15th anniversary provides an ideal opportunity to reflect on the museum as an institution. The exhibition Transit features sculptural, filmic and photographic works in which artists take an ironic, serious, satirising or otherwise revealing look at the museum itself, its institutional conventions and its codes of viewing and presenting art. The title of the exhibition – Transit – is borrowed from one of the works on show, and refers not only to the utilisation of the passageway that connects the Galerie der Gegenwart to the older buildings of the Kunsthalle, but also to the relatively transitory nature of this display, which is being held in a period of transition between two large-scale exhibitions and shows the museum to be a complex and lively processual entity.
The beginning and end of the exhibition Transit is marked by Florian Slotawa's Museums-Sprint videos, in which the artist can be seen running as fast as he can through the galleries of various museums, including the Hamburger Kunsthalle. While Slotawa's works address the reception of art 'in passing', Nicola Torke's installation Transit represents a more contemplative and concentrated mode of viewing, alluded to by an armchair placed in front of Adolph Menzel's painting Die Schwester Emilie im Schlaf (Emilie Menzel Asleep, 1848). Peter Friedl's video piece also references a painting on permanent display at the Hamburger Kunsthalle, namely Tiger und Schlange (Tiger and Snake, 1858) by Eugène Delacroix. Featuring a real tiger and a toy snake, Friedl's video shows the subject of the painting – a fight between mismatched animals – being re-enacted and simultaneously brought to life in the museum's Olympiasaal. The two video pieces by Andrea Fraser – Museum Highlights: A Gallery Talk and Inaugural Speech – are recordings of performances where the artist subverts the practice of giving guided tours and holding welcome speeches in art institutions by employing, varying and thereby challenging conventional modes of address. The American artist Louise Lawler photographs other artists' works as a means of examining how artworks are handled, installed and presented in museums, private collections and auction houses. Her Cibachrome image Given by the Widow (1993) was photographed in the stockroom of the Hamburger Kunsthalle: Hans Arp's plaster sculptures Ruhendes Blatt (Resting Leaf, 1959) and Kauernd (Crouching, 1960) can be discerned behind the protective plastic sheeting. Candida Höfer's photographs address the cultural and social use of spaces such as libraries, lecture theatres and museums. In Hamburger Kunsthalle III (2000), the deserted space of the Department of Prints, Drawings and Photography still conveys a sense of occupation and use thanks to the innumerable scratch marks left on its floor by museum staff and visitors.