Max Beckmann
05 Sep 2014 - 18 Jan 2015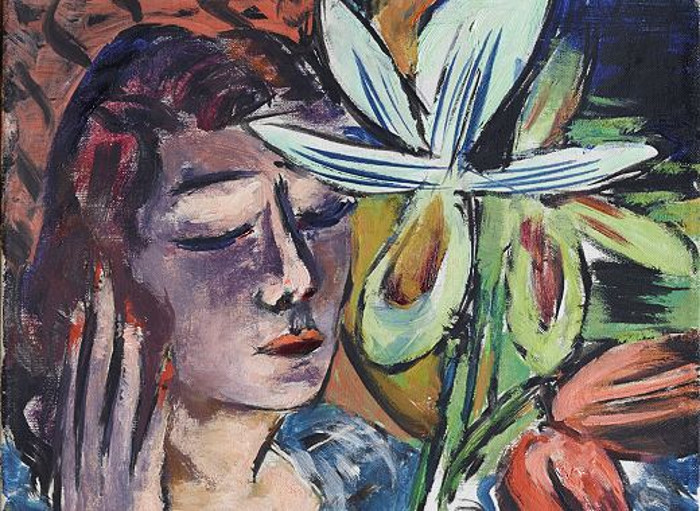 Max Beckmann
Frau mit Orchidee, 1940
Öl auf Leinwand
Galerie Pels-Leusden AG, Zürich, Photo: Peter Schälchli, Zürich.
MAX BECKMANN
The Still Lifes
5 September 2014 – 18 January 2015
Curator: Dr Karin Schick; curatorial assistant: Anna Heinze
Max Beckmann's rich and diverse oeuvre has frequently been explored and exhibited both nationally and internationally. Up to now, however, the focus has mainly been on his figurative paintings, landscapes, self-portraits and depictions of mythological themes. This new exhibition at the Hamburger Kunsthalle is dedicated to Beckmann's fascinating still lifes and is the first comprehensive display of these works either in Germany or abroad.
Max Beckmann (1884–1950) painted still lifes throughout his career, from the earliest works through the war years, during his time in Frankfurt and period of exile in Amsterdam, to his final years in the United States. In his compositions with wilting flowers and extinguished candles Beckmann juxtaposes the immediacy and vitality of life with emblems of transience and mortality. His depictions of fruit, seashells or sea creatures, meanwhile, celebrate the natural world with its profusion of colours, shapes, materials and textures. Beckmann's intensely personal iconography is particularly apparent in his characteristically complex still-life compositions. He skilfully combines different levels of reality and often straddles artistic genres by incorporating landscapes, interiors or human figures into his still lifes.
Many of Beckmann's still-life works feature objects from his own surroundings. Some of these objects, such as a Chinese toad figurine, are also included in the exhibition. The representation of real objects sheds light on how Beckmann gathered and used material to create his images – how much is derived from reality and how much is invented.
The exhibition centres on two outstanding works by Max Beckmann from the Hamburger Kunsthalle's own collection – including the painting Großes Fisch-Stillleben (Large Fish Still Life, 1927) – and brings together around 70 paintings and several watercolours dating from the period 1905–1950. This extensive presentation of major still-life works from private and public collections in Europe and the United States, some of which are rarely exhibited, demonstrates the impressive range of Beckmann's work on the theme. The institutional lenders include the Neue Nationalgalerie, Berlin; Pinakothek der Moderne, Munich; Kunstmuseum Winterthur; The Baltimore Museum of Art; The Museum of Fine Arts Boston; Saint Louis Art Museum; Staatsgalerie Stuttgart; and the Hirschhorn Museum and Sculpture Garden, Washington DC.
The Hamburger Kunsthalle has put together a wide-ranging programme of educational activities and events to make visiting the exhibition even more memorable. Special emphasis has been placed on offering learning experiences tailored to the needs of different audiences. With the help of a new multimedia guide that has been produced with support from the Freie und Hansestadt Hamburg, visitors can explore the exhibition and find out more about the artworks and objects on display. A children's activity brochure and an educational programme for day nursery and primary school groups have been developed with support from the Commerzbank-Stiftung. Numerous lectures, talks and music performances for young people and adults round off the programme of events related to this fascinating exhibition, which has also received support from the Freunde der Kunsthalle, the Hubertus Wald Stiftung and the Art Mentor Foundation Lucerne.
Max Beckmann. The Still Lifes is accompanied by a richly illustrated catalogue that also features insightful scholarly essays on the topic. Published by Prestel Verlag (German and English editions, 200 pages), it is available for € 29 from the museum shop and at
www.freunde-der-kunsthalle.de
as trade edition for € 49,95.
The Hamburger Kunsthalle will be the only venue for the exhibition Max Beckmann. The Still Lifes.