Open Depot - Sculpture from the Collection
24 Jul 2012 - 01 Jan 2013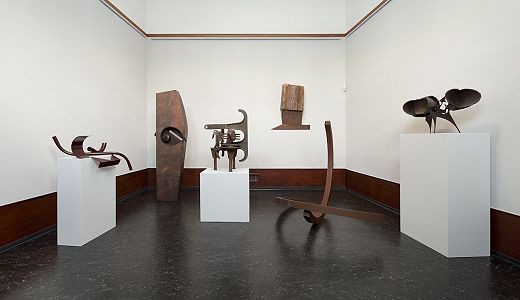 Sammlungspräsentation. Schaulager Skulpturensammlung, Abstraktion, Kabinettraum 08, Photo: Kay Riechers
OPEN DEPOT - SCULPTURE FROM THE COLLECTION
Curated by Daniel Koep
24 July 2012 – 1 January 2013

The Hamburger Kunsthalle is for the first time offering visitors the chance to 'see a large-scale display of sculptural works in an "open depot presentation" in the Hamburger Gang. With more than two hundred pieces on show, the majority of which were created in the nineteenth or twentieth century, the display features a good third of the Kunsthalle's extensive sculpture collection. The presentation focuses on depictions of the human form: the oldest exhibit – Thronende Maria mit Kind [Madonna and Child Enthroned] – was created by a Cologne master in 1330, while the youngest work in the collection – a life-sized female figure by Olaf Metzel entitled Turkish Delight – was made in 2007. Although the concept of sculpture has changed considerably in recent decades with the evolution of performance and installation art, traditional sculptural techniques continue to be popular. Arranged around central themes such as "Gründerzeit", "Hamburg Secession" and "Abstraction", and also according to genres such as the animal sculpture or the full-length human figure, this behind-the-scenes look at the museum's sculpture holdings includes works by renowned artists such as Aristide Maillol and Henry Moore. As they are introduced to recently acquired pieces, reacquaint themselves with old favourites and make surprising new discoveries, visitors experience the diversity and quality of the works in the Hamburger Kunsthalle's sculpture collection.