Alex Hubbard
18 Jan - 20 May 2012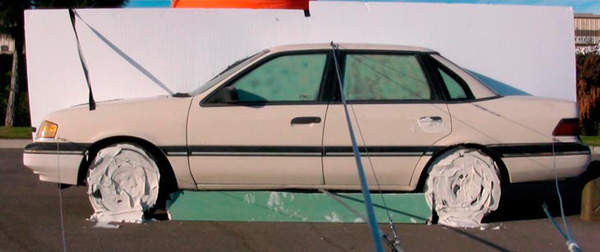 © Alex Hubbard
Annotated Plans for an Evacuation, 2010
Video, color with sound. 5 minutes, 46 seconds. Courtesy of the artist and Maccarone, New York.
ALEX HUBBARD
18 February - 20 May, 2012

Construction and art materials, urban detritus, domestic items, and even the occasional animal make their way into New York-based artist Alex Hubbard's dynamic videos. Avoiding a single point of focus, he constructs his videos in layers, creating all-over compositions in which movement is multi-directional and time seems non-linear. Also a painter, his videos and paintings are constructed through parallel strategies, both exploring the construction, composition, mass, color, and depth of images in unexpected ways. Hubbard's elaborate Foley soundtracks add a delightful and provocative dimension to his adventurous visual narratives that challenge notions of duration and question the difference between looking and watching. Hammer Projects: Alex Hubbard will mark the debut of his newest video, Eat Your Friends (2011). Presented alongside The Border, The Ship (2010), the exhibition will highlight Hubbard's increasingly complex videos that engulf viewers with bold colors, performative gestures, and evolving compositions. Organized by Hammer curatorial associate Corrina Peipon, Hammer Projects: Alex Hubbard is his first one-person museum exhibition.

Biography
Alex Hubbard was born in 1975 in Toledo, Oregon and lives in New York. He received his BFA from the Pacific Northwest College of Art and participated in the Whitney Museum Independent Study Program. One person exhibitions of his work have been presented at venues such as Gaga Contemporary, Mexico City; STANDARD (OSLO), Oslo, Norway; and The Kitchen, Maccarone Gallery, and Team Gallery in New York. A two-person exhibition with Oscar Tuazon was presented at the Contemporary Art Museum St. Louis in 2008. Hubbard's work has been featured in numerous group exhibitions including Compulsive Jalouse, Palais de Tokyo, Paris, France (2006); Nothingness and Being, The Jumex Collection, Mexico City (2009); Meth Labs, A Lecture, Ballroom, Marfa, Texas (2008); The Reach of Realism, Museum of Contemporary Art, North Miami (2009); Whitney Biennial, Whitney Museum of American Art, New York (2010); Greater New York, PS1, Long Island City, New York (2010); and Knight's Move, SculptureCenter, Long Island City, New York (2010).