Alina Szapocznikow
05 Feb - 29 Apr 2012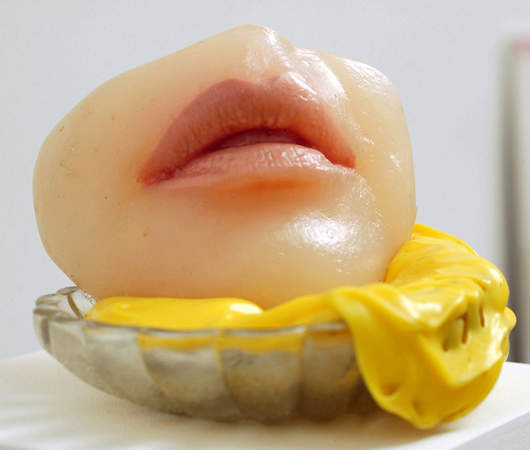 Alina Szapocznikow
Petit Dessert I (Small Dessert I), 1970-71
Colored polyester resin and glass.
3 3/16 x 4 5/16 x 5 1/8 in. (8 x 11 x 13 cm).
Private Collection, New York. Photo courtesy Broadway 1602, New York, and Galerie Gisela Capitain, Cologne.
Photo by Thomas Mueller
© The Estate of Alina Szapocznikow - Piotr Stanislawski.
ALINA SZAPOCZNIKOW
Sculpture Undone, 1955-1972
5 February - 29 April, 2012

Alina Szapocznikow: Sculpture Undone, 1955–1972 is the first museum survey in the United States devoted to this Polish artist. The exhibition brings to light the extraordinary oeuvre of Alina Szapocznikow, one of the most significant yet lesser known sculptors of the 20th century. At the core of Szapocznikow's art is the ephemeral condition of life and the human body. Her work oscillates between permanence and impermanence, from carvings in Carrara marble to the precarious assemblages of lips and breasts cast in polyester resin. The exhibition includes approximately 60 sculptures and 50 works on paper, as well as a poignant group of photographic works, demonstrating the tremendous range and scope of Alina Szapocznikow's art.

Alina Szapocznikow: Sculpture Undone, 1955–1972 is organized by WIELS Contemporary Art Centre, Brussels, and the Museum of Modern Art, Warsaw, in collaboration with the Hammer Museum, Los Angeles, and The Museum of Modern Art, New York.

The exhibition is curated by Elena Filipovic and Joanna Mytkowska. The Hammer Museum's presentation is organized by Allegra Pesenti, Curator, Grunwald Center for the Graphic Arts.