All Of This And Nothing
30 Jan - 24 Apr 2011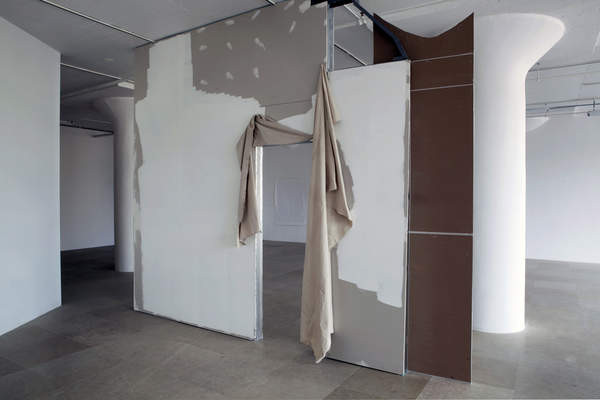 Gedi Sibony, The Cutters, 2010
Canvas, paint, wall, and vinyl. 348 x 416.6 x 33 cm
Courtesy of the artist and Greene Naftali Gallery, New York
ALL OF THIS AND NOTHING

30 January - 24 April 2011

The sixth in the series of Hammer Invitationals, All of this and nothing will present the work of several Los Angeles-based artists, both established and emerging, alongside a number of international artists, several of whom will be exhibiting in Los Angeles for the first time. The first major exhibition at the Hammer to be jointly curated by the museum's senior curator, Anne Ellegood and chief curator, Douglas Fogle, All of this and nothing presents a range of media, including painting, sculpture, drawing, installation, sound, performance, and the moving image.

The artists in the exhibition explore philosophical questions about being in the world, heightening our awareness of the many mysteries that surround us and favoring intuition and poetry over rationality and logic. They closely consider and make visible to the viewer the process of art making by playing with scale, the ephemeral quality of their materials, the nature of time and language, and the relationships between the objects that they create. In doing so, the artists propose that works of art can inspire us to contemplate and to question, offering more possibilities than certitudes, more curiosities than established arguments. These artists conceptually and emotionally invest ephemeral and everyday materials and occurrences with newfound poetic meanings while offering a thoughtful meditation on the fragility of our lives and the objects that make up the world around us. A series of performances will accompany the exhibition.

As part of the museum's on-going collaborations with LAXART, three artists included in All of this and nothing will have projects on view at LAXART. Kerry Tribe will have an installation in the gallery, Dianna Molzan on the building façade, and Fernando Ortega will have a billboard project. LAXART is located at 2640 S. La Cienaga in Los Angeles. Hours: Tuesday-Saturday, 11am-6pm.

Participating artists include Karla Black, Charles Gaines, Evan Holloway, Sergej Jensen, Ian Kiaer, Jorge Macchi, Dianna Molzan, Fernando Ortega, Eileen Quinlan, Gedi Sibony, Paul Sietsema, Frances Stark, Mateo Tannatt, and Kerry Tribe.