Antony
21 Jan - 13 May 2012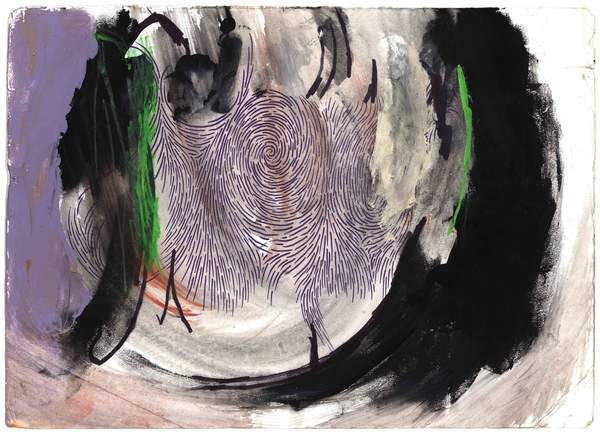 © Antony
Christina's Farm, 2009
Paint, chalk, and ink on paper
7 7/8 x 11 in. (20 x 27.9 cm).
Courtesy of the artist.
ANTONY
21 January - 13 May, 2012

Over the past 20 years, Antony has developed an esoteric and diverse body of work that includes not only his critically acclaimed music and elaborate performances but also his lesser-known work in collage, drawing, and sculpture. Antony's work emerges from a set of rituals such as washing and burning paper or engaging in repetitive mark-making as well as cutting, tearing, and sewing found images. Antony's growing visual vocabulary reflects his ideas about the power of human intuition, the sacredness of nature, transgenderism, and the revolutionary potential of the feminine. The exhibition will feature collages and drawings made from the late 1990s to 2011, some of which were recently published in Swanlights, a book accompanying the 2010 Antony and the Johnsons album.

Biography
Born in Chichester, West Sussex, England in 1971, Antony currently lives in New York. Since 2000, he has released four studio albums with his band Antony and the Johnsons. A special edition of the band's 2010 album Swanlights was accompanied by a book published by Abrams Image featuring drawings and collages by Antony as well as photographs by Don Felix Cervantes in collaboration with Antony. In 2009, a one-person exhibition of Antony's work was presented at Isis Gallery, London, and he curated 6 Eyes at galerie du jour, Paris. His work was included in It's not only Rock'n'Roll, Baby! at the Triennale Bovisa, Milan and Palais des Beaux-Art, Brussels in 2010. Antony's performance projects include Miracle Now (1996); TURNING (2004/2006), in collaboration with Charles Atals; and The Crying Light (2009). Antony was musical director of The Life and Death of Marina Abramović (2011) in collaboration with Abramović and Robert Wilson. Commissioned by the Museum of Modern Art, New York, his performance Swanlights will debut at Radio City Music Hall in 2012.