Charles Burchfield
04 Oct 2009 - 03 Jan 2010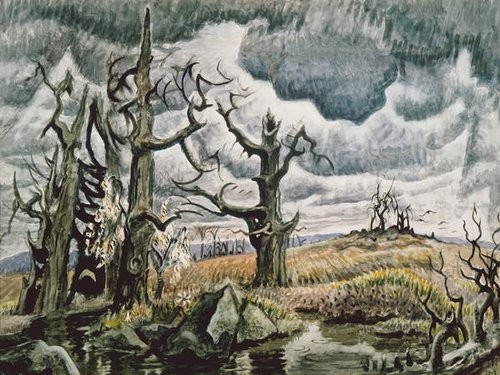 © Charles Burchfield
An April Mood, 1946-1955
Watercolor and charcoal. Whitney Museum of American Art, New York. Purchase, with partial funds from Mr. And Mrs. Lawrence A. Fleischman.
CHARLES BURCHFIELD
"Heat Waves in a Swamp" - The Paintings of Charles Burchfield

October 4 - January 3, 2010

Heat Waves in a Swamp will be the first major Charles Burchfield exhibition to be mounted on the west coast and the first in New York for more than twenty years. Arranged chronologically, it approaches Burchfield's work with a new perspective facilitated in part by the curatorial sensibilities of Robert Gober. Working with Hammer coordinating curator Cynthia Burlingham, Gober has augmented a large selection of watercolors with the inclusion of extensive biographical material that continually infuses Burchfield's own thoughts about his work and artistic practice. An obsessive collector, organizer, and archivist, Burchfield left a treasure trove of well-maintained sketches, notebooks, journals, and doodles spanning his entire career. This material is now part of the Burchfield Penney Art Center at Buffalo State College, which houses more than twenty five thousand objects by this visionary American artist. The exhibition will travel to the Whitney Museum of America Art in New York and the Burchfield Penney Art Center.
Although aware of the art of his time, Charles Burchfield spent his working life immersed in his own local environment in upstate New York, trusting and then challenging his creative instincts, often looking backwards in order to go forward, and steadfast in his belief of "the healthy glamour of everyday life." His paintings vibrate with color and sound like visual symphonies where the humming of insects, rustling leaves, bells, moonbeams, and vibrating telephone lines are woven together to reveal the beauty and power of the American landscape. Side by side with his journals and notes these paintings explore both physical and psychological terrain. Edward Hopper, fellow artist and close colleague, once said that Burchfield's work "is most decidedly founded, not on art, but on life, and the life that he knows and loves best."

The Man and His Art
The exhibition begins with work Burchfield created in 1916 while living in Salem, Ohio and follows his career with special attention to transformative and often reflective moments in his life and work. For example, drawings from a 1917 sketchbook entitled "Conventions for Abstract Thoughts" represent human emotions with semi-abstract shapes that would appear in his work for years to come. This is followed by an entire room dedicated to the 1930 Burchfield exhibition at MoMA, which was the first solo artist exhibition in the museum's young history. Twenty-seven watercolors originally featured in the MoMA show will be exhibited alongside the correspondence between Burchfield and then-MoMA curator/director Alfred Barr. This early period of Burchfield's career also features a room with wallpaper from his time as a wallpaper designer combined with watercolors of industrial landscapes from the same period.
More than a decade later, Burchfield returns to his early expressionistic watercolors for inspiration. He begins to make monumental pieces created by literally transforming a number of small-scale watercolors from 1916-1918 -- pasting large strips of paper around the early watercolors to increase their size and reworking these new compositions into unusually large ecstatic watercolor visions. This return to his roots results in an explosion of color and the exhibition culminates in the late, transcendental watercolors of the 1950s and 1960s. These monumental paintings are accompanied by a central vitrine containing the more than 10,000 handwritten journal pages that Burchfield kept throughout his life, from a young teenager until his death from a heart attack in 1967. These rich and complex journals demonstrate the extent to which this artist was continually immersed in rigorous self-reflection and the documentation of his artistic process.

Catalogue
The exhibition is accompanied by a 160-page, fully-illustrated catalogue edited by Cynthia Burlingham and Robert Gober with essays by Robert Gober, critic Dave Hickey, Hammer Deputy Director Cynthia Burlingham, Burchfield Penney Art Center Head of Collections and the Charles Cary Rumsey Curator Nancy Weekly, and Burchfield Penney Art Center Research Assistant Tullis Johnson. Published by Prestel, the catalogue will be a major scholarly addition to the study of Burchfield and includes illustrations of both paintings and historical material from the Burchfield Penney Art Center in Buffalo.

Artist Biography
Charles Ephraim Burchfield (1893-1967) was an American painter, best known for his watercolor landscapes. Burchfield was born April 9, 1893, in Ashtabula Harbor, Ohio. Five years later, his family moved to Salem, Ohio, where he graduated from high school as class valedictorian in 1911. He attended the Cleveland School of Art from 1912-1916 and studied with Henry G. Keller, Frank N. Wilcox, and William J. Eastman.
In 1921, Burchfield moved to Buffalo, New York, to work as a designer for the prominent wallpaper company, M.H. Birge & Sons Company. The next year he married Bertha Kenreich, with whom he raised five children. He became friends with Edward Hopper in 1928, after Hopper's essay on Burchfield appeared in the July issue of Arts magazine. Hopper wrote, "The work of Charles Burchfield is most decidedly founded, not on art, but on life, and the life that he knows and loves best."
In 1929, the Frank K. M. Rehn Galleries in New York City began representing Burchfield, allowing the artist to resign from his job as a designer to paint full-time. In 1930, his work was the subject of the Museum of Modern Art in New York's first one-person exhibition, Charles Burchfield: Early Watercolors 1916-1918. He was included in the Carnegie Institute's The 1935 International Exhibition of Paintings, in which his painting The Shed in the Swamp (1933-34) was awarded second prize. In December 1936 Life magazine declared him one of America's ten greatest painters in its article "Burchfield's America."
In 1940 the Fogg Art Museum at Harvard University held Exhibition of Water Colors by Charles Burchfield. Over the next fifty years there were significant exhibitions featuring his work including The Drawings of Charles E. Burchfield at the Cleveland Museum of Art, a retrospective organized in 1956 by The Whitney Museum of American Art in New York, and the Pennsylvania Academy of Fine Arts' Paintings by Charles Burchfield in 1964. His artistic achievement was further honored with the creation of the Charles Burchfield Center at Buffalo State College on December 9, 1966, a month before his death on January 11, 1967.
In 1984 the Metropolitan Museum of Art in New York curated the exhibition Charles Burchfield, followed in 1986 by the Boston Athenaeum's An American Visionary: Watercolors and Drawings by Charles E. Burchfield. Charles E. Burchfield: The Sacred Woods was on view at the Drawing Center in New York in 1993, and in 1997 the Columbus Museum of Art organized The Paintings of Charles Burchfield: North by Midwest.

Curator Biography
Robert Gober, is a sculptor who has also curated exhibitions, the most recent being The Meat Wagon, in 2005 at The Menil Collection in Houston, Texas. In 1999, Gober curated Anni Albers, Robert Beck, Cady Noland, Joan Semmel, and Nancy Shaver: Black and White Photographs 1975-77, at Matthew Marks Gallery, New York. In 1988 he curated Utopia Post Utopia (Untitled Installation Conceived by Robert Gober), The Institute of Contemporary Art, Boston, and organized Robert Gober, Nancy Shaver, Alan Turner, Meg Webster, Cable Gallery, New York, in 1986.
Gober was born in Wallingford, Connecticut in 1954, and currently lives and works in New York City. He studied at the Tyler School of Art, Rome, Italy, in 1973-1974 and received his B.A. in 1976 from Middlebury College, Vermont. He is best known for his sculptures, but also makes photographs, prints, and drawings.
Gober has exhibited widely both in the United States and abroad. In 2001 he was chosen to represent the United States in the 49th Venice Biennale. His has had numerous solo exhibitions at the Museum of Contemporary Art, Los Angeles, the Art Institute of Chicago, the Walker Art Center, Galerie nationale du Jeu de Paume, Paris, and the Dia Center for the Arts, New York. His work has also been included in five Whitney Biennials. In 2007 the Schaulager in Basel, Switzerland presented a thirty year retrospective, which was accompanied by a comprehensive book of his sculptures entitled Robert Gober: Sculptures and Installations 1979-2007.