Danica Dakic
30 Apr - 07 Aug 2011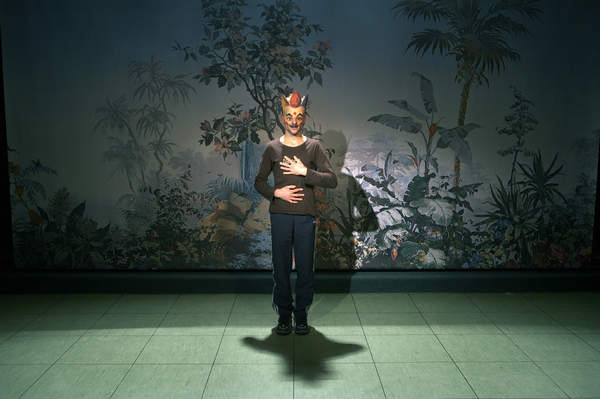 Danica Dakic
Isola Bella, 2007 - 2008
Still from single-channel video projection, color, sound. 19:08 min.
©Danica Dakic, VG Bild-Kunst. Image courtesy of the artist.
DANICA DAKIĆ
April 30 - August 7, 2011

Bosnian artist Danica Dakić creates videos and photographs that explore displacement, role-playing, and alienation. Her exhibition features Isola Bella (2007-2008), a video created with the residents of a facility for the mentally and physically disabled, the Home for the Protection of Children and Youth, in a town outside of Sarajevo. Dakić transforms the facility's small theater into a film set by inserting a 19th-century wallpaper design called "Isola Bella," which features imagery of this tropical island, and a piano. Enlisting the residents as participants, they wear Victorian paper masks—ranging from Marie Antoinette to Carmen Miranda to Caesar to a Native American chief—which hide their identities and expressions and allow them to role-play and to re-invent themselves. The video alternates between the residents' performance in front of the wallpaper and their reactions as audience members. The sense of abundance created by the lush scenery and ornate masks is disrupted by the contrast with residents' plain clothes and the institution's linoleum floor. Through storytelling and improvised songs, the residents weave together their personal histories and desires, creating a space between documentary and performance that is part fact and part fantasy. The video projection is accompanied by a three-part "movie poster." This will be Dakić's first solo exhibition in a U.S. museum.

Organized by Anne Ellegood, Hammer senior curator.

Danica Dakić was born in 1962 in Sarajevo and currently lives in both Sarajevo and Düsseldorf. She has studied at The Academy of Fine Arts, Sarajevo; the University of Arts, Belgrade; and the Academy of Fine Arts, Düsseldorf. Dakic has had solo shows at Museum of Contemporary Art, Zagreb; Generali Foundation, Vienna; Wilhelm-Hack-Museum, Ludwigshafen; Kunsthalle Düsseldorf, Düsseldorf; Kunsthaus Langenthal, Langenthal; Museum of Modern Art Ljubljana, Ljubljana; Kulturzentrum Sinsteden, Sinsteden; National Gallery of Bosnia-Herzegovina, Sarajevo; Kunstverein Ulm, Ulm; and Obala Art Centar, Sarajevo. She has participated in many group exhibitions including documenta 12, Kassel; the 2003 and 2009 Istanbul Biennials, Istanbul; the 2003 Valenica Biennial, Valencia; the 2010 Biennale of Sydney; and the 2010 Liverpool Biennial, Liverpool. This is her first solo show in a U. S. museum.