Dara Friedman
19 Jan - 14 Apr 2013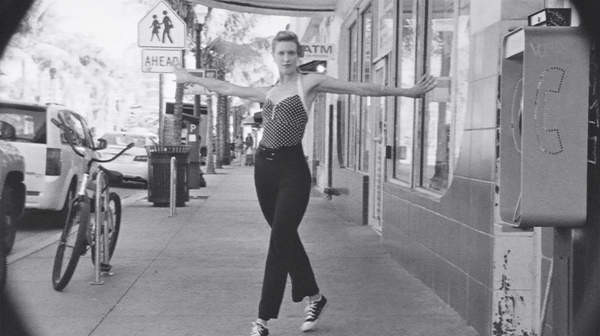 © Dara Friedman
Still from Dancer, 2011
Super 16mm film transferred to HD video, black and white, sound. 25 min.
Courtesy of the artist.
DARA FRIEDMAN
19 January - 14 April 2013

Dara Friedman explores notions of performativity, urban space, and the individual in the public sphere in her ebullient, poetic films and videos. For Dancer (2011), she enlisted Miami-based dancers of all stripes to dance through the city streets for the camera. Shot on 16mm black-and-white film and transferred to HD video, Dancer celebrates both the city and the medium of dance. With the city streets as a backdrop, dancers improvise, expressing the specificity of their styles and skills and making meaning through movement. Organized by Hammer senior curator Anne Ellegood, Hammer Projects: Dara Friedman is Friedman's first exhibition in Los Angeles.

Dara Friedman was born in Bad Kreuznach, Germany in 1968. She lives in Miami, Florida. Friedman's work has been the subject of one person exhibitions at venues such as Miami Art Museum, Miami, Florida (2012); Museum of Modern Art, New York (2010); The Kitchen, New York (2005); Site Santa Fe, Santa Fe (2001). Her work has been featured in thematic exhibitions internationally including Our Darkness, Kunstlerhaus Stuttgart, Stuttgard, Germany (2011); Greater New York, PS1, Long Island City (2010); Off the Wall: Part 1–Thirty Performative Actions, Whitney Museum of American Art, New York and Serralves Museum, Porto, Portugal; Playing the City, Schirn Kunsthalle, Frankfurt, Germany (2009); As Heavy as the Heavens--Transformation of Gravity, Cultural City of Europe, Graz, Austria (2003); Videodrome ll, New Museum of Contemporary Art, New York (2002); and Whitney Biennial, Whitney Museum of American Art, New York (2000).