Eric Baudelaire
09 Jul - 26 Sep 2010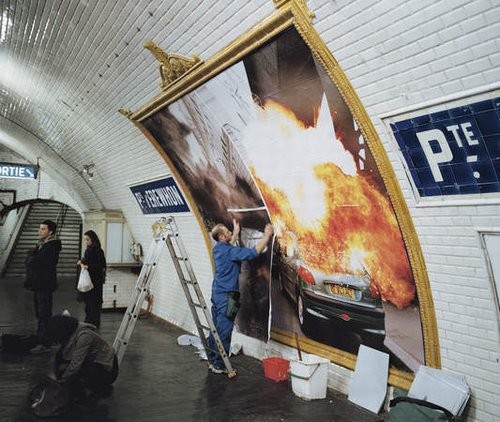 © Eric Baudelaire
Sugar Water, 2007
HD Video, 72 minutes
courtesy the artist and Elizabeth Dee, New York
ERIC BAUDELAIRE

July 9 - September 26, 2010

In his first U.S. museum solo show, Paris-based Eric Baudelaire will present his video Sugar Water (2007). The action takes place on a Paris metro platform where a billposter covers a large advertising billboard with a sequence of images that depict a car parked on a Parisian street that bursts into flames, becomes swallowed up in smoke, and then remains only as a skeleton of the former car. Using a laborious traditional system to mount the details of each image, this cinematic event gradually unfolds over the 72-minute film, offering a slow contemplative consideration of political violence as a counterpoint to the rapid barrage of images we typically experience in our news media. Despite its slow, nearly meditative pace, Baudelaire creates a haunting and provocative work that completely absorbs the viewer.
ESSAY

Hammer Projects: Eric Baudelaire
By Anne Ellegood

A remembered event is infinite.
—Walter Benjamin (1)

Long before the events of September 11, 2001, there was another terrorist attack on Wall Street. On September 16, 1920, an Italian anarchist named Mario Buda, angry over the recent executions of fellow ideologues Nicola Sacco and Bartolomeo Vanzetti, parked his horse-drawn carriage, filled with one hundred pounds of dynamite and five hundred pounds of cast iron, on the corner of Wall and Broad Streets in downtown Manhattan, across from the J. P. Morgan Company offices. Buda then left the neighborhood, and soon thereafter the handcrafted bomb exploded, killing close to forty people, injuring dozens more, and causing enormous damage to the buildings in the vicinity. Nearby, leaflets were found that read, "Free the Political Prisoners or it will be Sure Death for All of You!" (2) It was the deadliest attack perpetrated in the United States up to that time, and the first incident to involve a car bomb (the carriage being the "car" of its day), a now-common strategy for getting explosive devices into vulnerable locations undetected. These days, car bombs are detonated on a regular basis, but we usually associate them with countries experiencing war or civil strife, such as Iraq and Lebanon. Few would likely guess that the first such attack took place on American soil.

Biography
Paris-based artist Eric Baudelaire was born in Salt Lake City, Utah, in 1973 and graduated from Brown University in 1994. His work has been the subject of one-person exhibitions at Elizabeth Dee Gallery in New York and galleries in Europe as well as at the Musée de la Photographie, Charleroi, Belgium, and Gallery TPW, Toronto. His work has been included in numerous thematic exhibitions such as Concrete Eruditions, Le Plateau / FRAC, Paris, France; Great Expectations, Casino Luxembourg, Luxembourg, France; and Replaying Narrative, Le Mois de la Photo, Montreal, Canada. Baudelaire's exhibition at the Hammer is his first one-person museum exhibition in the United States.

Organized by Anne Ellegood, Hammer senior curator.