Hammer Contemporary Collection II
21 Apr - 12 Aug 2007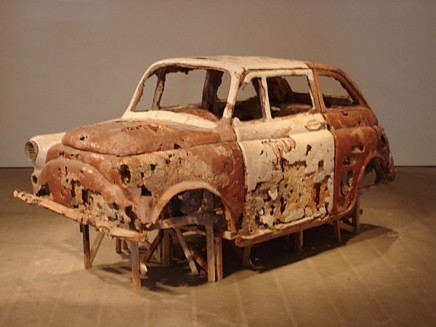 Kristen Morgin
Topolino
2003
Unfired clay, wood, wire, cement
Hammer Museum, Los Angeles
Purchased with funds partially provided by Dean Valentine and Amy Adelson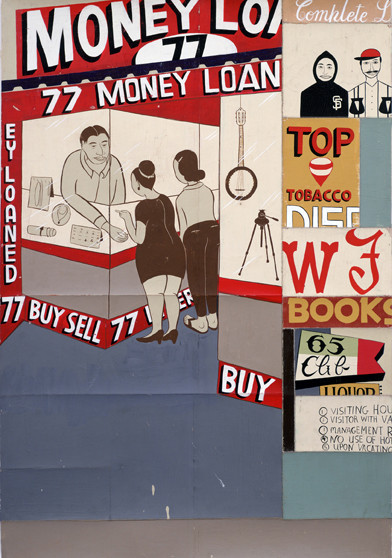 Margaret Kilgallen
Money to Loan
2000
Set of 6 drawings, mixed media on paper and fabric
Hammer Museum, Los Angeles
Purchased, in part, with funds provded by The Judith Rothschild Foundation
Hammer Contemporary Collection
Part II
April 21 - August 12, 2007

In the past few years the Hammer has initiated a contemporary collection in
order to strengthen its relationship with artists featured in Hammer projects and
exhibitions and in the Los Angeles art community as a whole. This new collection
focuses primarily on art made in the last ten years with a particular emphasis on
works on paper, especially drawings and photographs, but also includes works in
a variety of media such as painting, sculpture, and new media.

The second installment of the two-part exhibition, Hammer Contemporary
Collection: Part II focuses on figurative and imagistic works. Highlights include
a group of ten recent drawings by Raymond Pettibon, "dream drawings" by Jim
Shaw, and a set of three portraits by Matthew Monahan. The show also includes
sculptures by LA artists Kristin Morgin and Nathan Mabry, paintings by Kristen
Everberg and Brenna Youngblood, and mixed media works by San Francisco Bay
Area artists (and Hammer Projects alumni) Barry McGee and Margaret Kilgallen.
International artists also feature in the exhibition with paintings by Mamma
Andersson (Sweden), Thomas Eggerer (Germany), and Michaël Borremans
(Belgium), and works on paper by Dr. Lakra (Mexico), Shazia Sikander (Pakistan),
Yun Fei-Ji (China/US), and Jockum Nordstrum (Sweden).

This exhibition is organized by Gary Garrels, Chief Curator and Deputy Director of Exhibitions and Public Programs at the Hammer Museum.