Hammer Projects: Andra Ursuta
07 Mar - 25 May 2014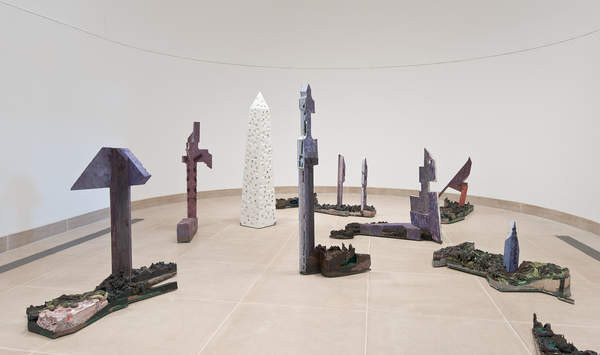 Hammer Projects: Andra Ursuta. Installation view at the Hammer Museum, Los Angeles. March 8-May 25, 2014. Photo by Brian Forrest.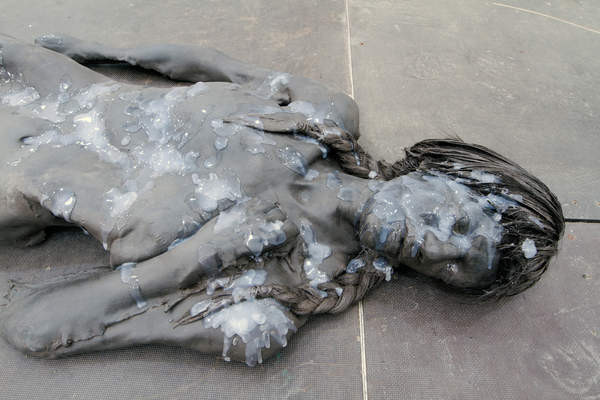 © Andra Ursuta
Crush (detail), 2011
Cast urethane, wax, sneakers, wig, silicone
60 x 40 x 9 in. (152 x 102 x 23 cm)
Courtesy of the artist and Ramiken Crucible, New York.
HAMMER PROJECTS: ANDRA URSUTA
7 March - 25 May 2014

Andra Ursuta makes work fueled by her memories and fears. Her sculptures and installations are often wry, poignant, self-deprecating, melancholic, nostalgic and apocalyptic. She mixes media such as cement, plaster, marble, found objects and wood to develop new ways of viewing the world and processing her memories and fears. Her latest body of work grew out of her fear of death, which fuels her obsession with the subject. She avoids cemeteries but makes imaginary visits to graveyards as a cathartic exercise. For the Frieze Art Fair Projects in 2012, she made a graveyard with marble tombstones featuring abstract, generic shapes. Her cemetery for this show is even more abstract: the vault gallery will be transformed into a shadow graveyard populated with sculptures that are casts of the shadows of tombstones. In Ursuta's deft hands, we are left to wander a shadow cemetery, empty of souls, yet full of memories.

Hammer Projects: Andra Ursuta is organized by Hammer curator Ali Subotnick and Emily Gonzalez, curatorial assistant.

ESSAY

By Ali Subotnick

Andra Ursuta likens herself to "a village idiot who gets prescribed behavior wrong and, in perverting it, undermines the authority that commands it."[1] But in this statement, Ursuta downplays her sharp intuition and intelligence. More idiot savant than naive dolt, she sees through the bullshit and gets straight to the point, tackling real-world issues, imbued with a dash of existentialism and a bitingly dark sense of humor. Memory, death, the human condition, and the absurdity and irony of life are all inspirations for the artist. Her work is ripe with emotion and contradictions—pathos and humor, melancholy and hope, raw and refined, hard and soft, aggressive and tender. It's at times vulgar and political, poignant and wry, exotic and familiar. Often she makes severe gestures that aggressively confront viewers, placing them in uncomfortable positions so that they must reevaluate their roles in society and acknowledge "the discrepancies between subjectivity and the structures provided by society, culture, and science (especially psychology) for articulating it." More

Notes
1. All quotations from the artist are from an interview with the author on October 9, 2013, and/or from e-mail correspondence with the author on January 8 and 10, 2014.

Andra Ursuta was born in 1979 in Salonta, Romania, and lives and works in New York. She received a BA in art history and visual arts in 2002 from Columbia University. Ursuta has had several solo shows in New York, and her work has been featured in numerous group exhibitions, such as The Encyclopedic Palace, 55th International Venice Biennale, Venice, Italy (2013); Busted, High Line, New York (2013); Expo I, MoMA PS1, Long Island City, New York; Ostalgia, New Museum, New York (2011); and Looking Back / The Fifth White Columns Annual, White Columns, New York. This is Ursuta's first solo museum exhibition in the United States.