Hammer Projects: Avery Singer
06 Oct 2015 - 17 Jan 2016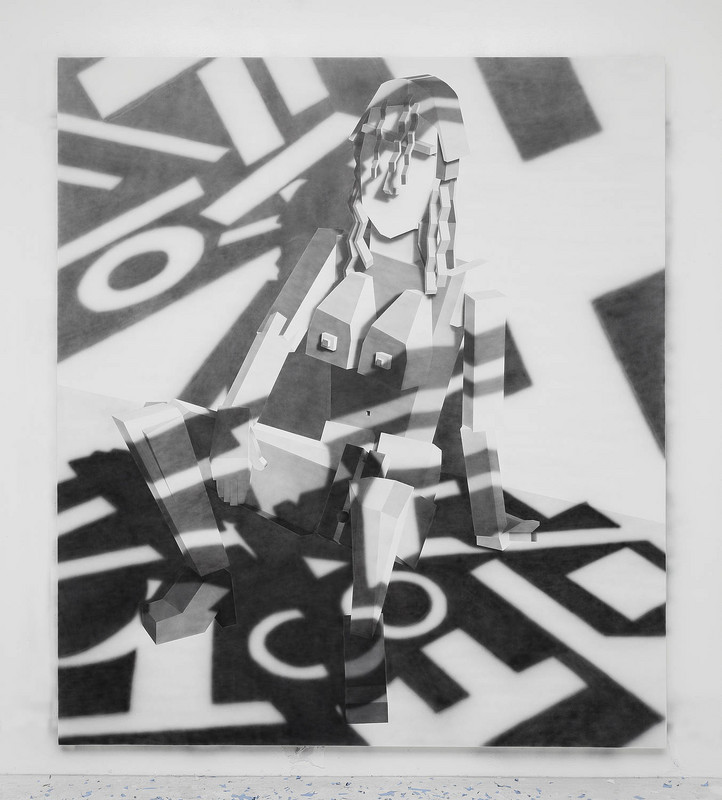 © Avery Singer
Sad Woman Projecting Libidinal Thoughts, 2014
Acrylic on canvas, 221 x 196 cm.
Collection of Andre Sakhai. Photo: Joerg Lohse.
HAMMER PROJECTS: AVERY SINGER
6 October 2015 - 17 January 2016

Avery Singer's paintings speak to the production and dissemination of works of art. How artworks are made, how artists are "made," and the interaction between artists, curators, and institutions are themes commonly portrayed in images that are predominantly flat, rendered in grayscale, and inhabited by bodies translated through the signature style of Google's SketchUp software and other digital tools. Singer creates pictures that are iconographically complex, culled from Internet image searches based in genres and trends inherited from the history of art. Pursuing what she has called "new possibilities for portraying naturalism," Singer's mode of painting brings together a mix of visual traditions that span the technologies of visuality, from the pre-photographic to the post-digital.

Hammer Projects: Avery Singer is organized by curator Aram Moshayedi with MacKenzie Stevens, curatorial assistant and January Parkos Arnall, curatorial assistant.

Avery K. Singer (b. 1987, New York, NY) received her BFA from The Cooper Union for the Advancement of Science and Art in 2010 and currently lives and works in New York. Recent solo exhibitions of her work have taken place at Foundazione Sandretto de Rebaudengo, Turin (2015); Kunsthalle Zürich, Zürich (2014); and Kraupa-Tuskany Zeidler, Berlin (2013). Singer has participated in the 13th Biennale de Lyon, Lyon, France (2015); "2015 Triennial: Surround Audience," New Museum, New York (2015); and the 6th Glasgow International Festival of Art, Glasgow, Scotland (2014); in addition to group exhibitions at the Hessel Museum of Art, Annandale-on-Hudson, New York (2015); Kunstverein Hannover, Germany (2015); Arizona State University, Tucson (2015); and Kunsthalle Fridericianum, Kassel, Germany (2013). Singer's exhibition at the Hammer Museum is the first solo presentation of her work in the United States.

Essay
By Aram Moshayedi

Avery Singer's paintings evoke the tropes of ritual and social patterns that constitute the functions of a curator, artist, or writer at work in the art world today. In The Studio Visit (2012), two figures are seated in front of an array of grossly typical modern artworks—a Noguchi-like sculpture and a constructivist assemblage among them—as they discuss, pontificate, interpret, and explicate amid mute objects and images. The scene is familiar in its awkward rigidity. It's a situation in which the artist speaks of meaning, the writer speaks of context, the curator speaks of modes of display, the gallery director speaks of value, and the collector speaks of status.

Avoiding contour and subtlety, Singer's paintings have tended to most often depict blocky, chunky bodies teased out of SketchUp software. More recently, the artist has attempted to exploit the possibilities of Blender, an open-source 3-D graphics and animation program, to create a visual language in which the handling of shape, contour, and line is determined largely by the program's limitations. The software serves as a means through which Singer is able to sketch out paintings before committing them to physical materials, and her images are the result of a translation from computer screen to canvas. The incompatibility of these two distinct modes of representation forms the basis of her larger practice, which has evolved to include a distinctive application of color, a new technical means of image making through applications like Blender, and a pursuit of painterly techniques that simulate the overlaying of visual data on a two-dimensional plane. By using a vector-based program to construct her scenes before they are transferred to canvas, Singer creates a world that is resolutely analog while containing the sense of limitless space and the illusion of depth that have defined the evolution of moving images across projection screens and digital platforms.