Hammer Projects: Mary Reid Kelley
23 May - 27 Sep 2015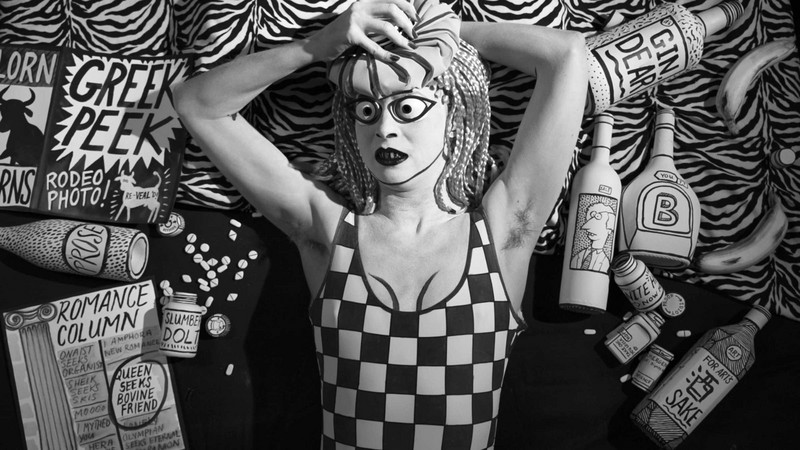 Mary Reid Kelley with Patrick Kelley
still from Swinburne's Pasiphae, 2014
HD video, black and white, sound. 8:58 min.
Courtesy of the artists; Susanne Vielmetter Los Angeles Projects; Fredericks & Freiser Gallery, New York; and Pilar Corrias, London.
HAMMER PROJECTS: MARY REID KELLEY
23 May - 27 September 2015

Trained as painter, Mary Reid Kelley creates narrative videos set within her own stylized black and white drawings. Working with videographer Patrick Kelley, her characters—all roles usually played by the artist—move through her black-and-white scenery and speak in poetic verse written by the artist. Beginning with Priapus Agonistes (2013), Reid Kelley explores the Greek myth of the Minotaur, turning the hybrid creature into half woman rather than man. In the second video of this series exploring the Minotaur's family history, Swinburne's Pasiphae (2014), Reid Kelley brings to life an unpublished text by the Victorian poet Algernon Charles Swinburne, which is rich with bawdy double entendres and visual language that aligns with the artist's own writings. The third and final video of the trilogy, The Thong of Dionysus, will be completed in 2015 and will premier in her Hammer Project. A mix of Greek cartoon, slapstick, and multidimensional wordplay, Reid Kelley's videos explore the roles of women, sexuality, language, and art historical tropes. This exhibition will be the first presentation of the complete video trilogy and will include portraits of her recurring characters in the Hammer's courtyard lightboxes.

Hammer Projects: Mary Reid Kelley is organized by Hammer curatorial associate Emily Gonzalez-Jarrett.

Mary Reid Kelley was born in Greenville, South Carolina and lives in Olivebridge, New York. She received her BA at St. Olaf College, Northfield, MN and her MFA from Yale University Art School, New Haven, CT. Reid Kelley has had solo exhibitions at the Neuer Kunstverein Wien, Vienna, Austria (2014); The Samuel Dorsky Museum of Art and the University Art Museum at SUNY Albany, NY (2014); The Institute of Contemporary Art/Boston, Boston; Yale University Art Gallery, New Haven, CT (2013); The Contemporary Austin, Austin, TX (2013); The Box at Wexner Center for the Arts, Columbus, OH (2012); and Rochester Art Center, Rochester, MN (2007). Additionally, her work has been shown in numerous group exhibitions and screenings including Rose Video 03: Maria Lassnig and Mary Reid Kelley at Rose Art Museum, Brandeis University, Boston (2014); Code Act at Coreana Museum of Art, Seoul, Korea (2014); Skit at The Hole Gallery, NYC (2014); Re-Generation at MACRO Testaccio, Rome (2012); and the 2010 SITE Santa Fe Biennial The Dissolve. Mary Reid Kelley is the recipient of the 2011 Rome Prize, the 2013 Louis Comfort Tiffany Award, and the 2013 Guggenheim Fellowship.