Hammer Projects: Maya Hayuk
17 Aug 2013 - 26 Jan 2014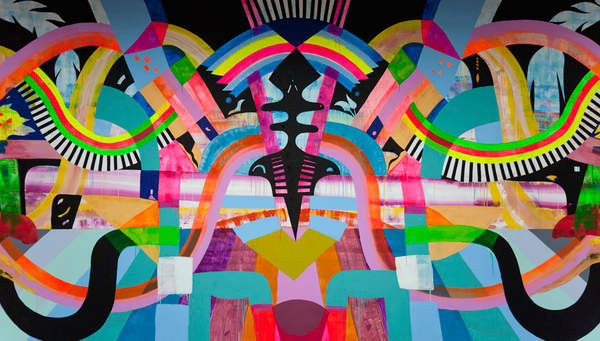 © Maya Hayuk
Heavy Lights, 2012
Paint on walls. Four walls, each 186 x 292 in. (472 x 743 cm).
Bonnefantenmuseum, Maastricht, Netherlands
HAMMER PROJECTS: MAYA HAYUK
17 August 2013 - 26 January 2014

With their symmetrical compositions, intricate patterns, and lush colors, Maya Hayuk's paintings and massively scaled murals recall views of outer space, traditional Ukrainian crafts, airbrushed manicures, and mandalas. Hayuk weaves visual information from her immediate surroundings into her elaborate abstractions, creating an engaging mix of referents from popular culture and advanced painting practices while connecting to the ongoing pursuit of psychedelic experience in visual form. For her first one-person museum exhibition in the United States, she will make a new site-specific mural on the Lobby Wall. Hammer Projects: Maya Hayuk is organized by Hammer assistant curator Corrina Peipon.

Biography
Maya Hayuk was born in Baltimore in 1969. She earned a BFA from Massachusetts College of Art and Design in 1991 and has studied at the University of Odessa, Odessa, Ukraine, and at Skowhegan School of Painting and Sculpture, Skowhegan, Maine. Hayuk's work has been the subject of one-person exhibitions and commissions at venues including Bonnefantenmuseum, Maastricht, the Netherlands (2012); Socrates Sculpture Park, Queens, New York (2011); the Escola de Artes Visuais do Parque Lage, Rio de Janeiro (2011); MU, Eindhoven, the Netherlands (2010); Centro Cultural Matucana 100, Santiago, Chile (2009); the Democratic National Convention, Denver (2008); and Monster Island, Brooklyn (2005–11). Her work has been included in group exhibitions such as Streetopia, Luggage Store, San Francisco (2012); Black Light & Outer Space, Secret Project Robot, Brooklyn (2011); Rojo Nova, Museum of Image and Sound, São Paulo, Brazil (2010); Contemporary Art 2010, Ukrainian Institute of America, New York (2010); L'art modeste sous les bombes, Musée International des Arts Modestes, Sète, France (2007); and The Zine Unbound: Kults, Werewolves, and Sarcastic Hippies, Yerba Buena Center for the Arts, San Francisco (2005). Hayuk has curated numerous exhibitions and is a member of the Barnstormers collective. She lives in Brooklyn.