Hammer Projects: Nicolas Party
30 Sep 2016 - 19 Feb 2017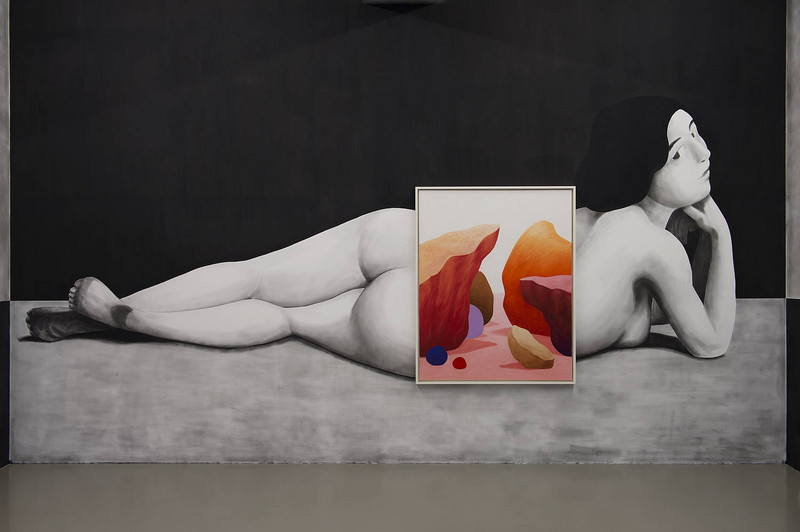 Nicolas Party
Pastel et nu
Installation view at Centre Culturel Suisse, Paris. January 16-February 15, 2015. Image courtesy of the artist; kaufmann repetto, Milan/New York; and The Modern Institute/Toby Webster, Ltd, Glasgow. Photo: Marc Domage.
HAMMER PROJECTS: NICOLAS PARTY
30 September 2016 - 19 February 2017

Swiss artist Nicolas Party to create a site-specific wall mural for his first exhibition in Los Angeles.

In his paintings and murals, the Swiss artist Nicolas Party revitalizes traditional genres such as still life, portraiture, and landscape. He has developed a signature aesthetic featuring a vibrant palette and a flat, graphic style that is immediately recognizable. His art historical influences include medieval art (specifically the flat figures in religious paintings of the period), as well as the work of late nineteenth-century painters such as Félix Vallotton and Ferdinand Hodler, and the early twentieth-century painter Balthus. One of Party's more contemporary influences is the multimedia artist John Armleder, whose continual blurring of the lines between decoration and high art is also a persistent consideration for Party as he wrestles with the limitations of painting and the weight of history.

Party's work slips between the past and the present, nostalgic and futuristic. A classically trained painter, he experiments with techniques such as fresco, gold leaf, and more recently marbling. He selects colors and animals for their symbolism and specific references. In addition to art history and decorative traditions, Party also considers the natural environment and the social context in conceiving his exuberant murals. For one exhibition, he used a mural to create a set for his show. Playing on the idea of the post–opening reception dinner, he produced tables and chairs painted with elephants and littered the floor with painted sculptures of fruit—a nod to the after-party detritus. While some of Party's murals function as backdrops for exhibitions—he often hangs his paintings on walls that he has painted with decorative elements—others, like the one he will create for the Hammer Museum's lobby wall, take center stage. This will be Party's debut exhibition in Los Angeles.

Hammer Projects: Nicolas Party is organized by Ali Subotnick, curator, with Emily Gonzalez-Jarrett, curatorial associate.

Nicolas Party (b. 1980, Switzerland; lives and works in Brussels) received his MFA from the Glasgow School of Art and his BFA from the Lausanne School of Art in Lausanne, Switzerland. He has exhibited widely in Europe and the U.S. with solo exhibitions at Centre d'art Neuchâtel, Neuchâtel, Switzerland; Dallas Museum of Art; Inverleith House, Edinburgh; Kunsthall Stavanger, Stavanger, Norway; Westfälischer Kunstverein, Münster; Swiss Institute, New York; and La Placette, Lausanne. His work has been featured in group exhibitions at Bonner Kunstverein, Bonn, Germany; Kunstzentrum Glasgow; Museum Folkwang, Essen, Germany; Eastside Projects, Birmingham; and Le Quartier Centre d'Art Contemporain, Quimper, among others.