Hammer Projects: Oliver Payne and Keiichi Tanaami
06 May - 27 Aug 2017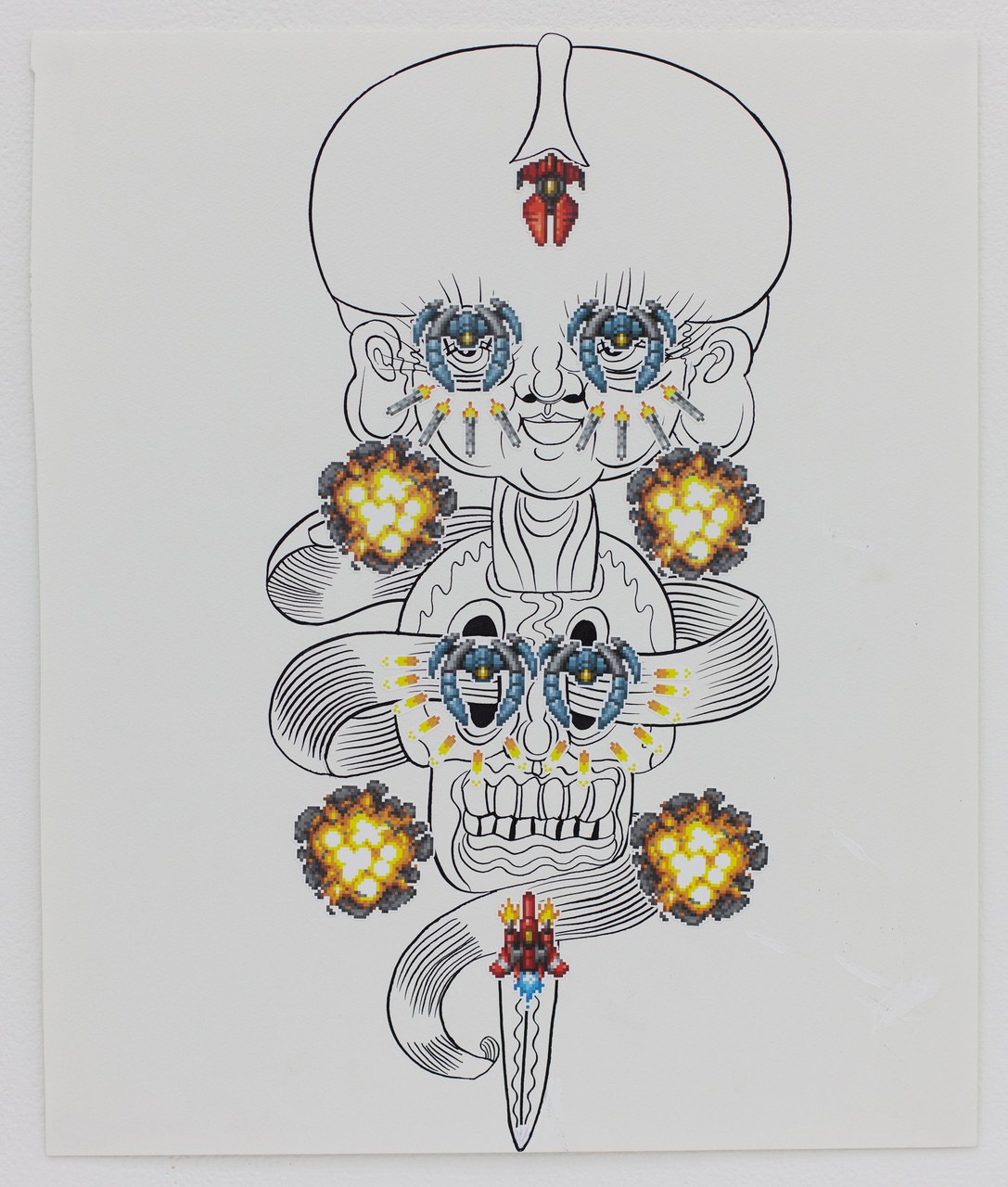 Oliver Payne and Keiichi Tanaami, Untitled, 2015
Ink and digital print stickers on paper. 17 15/16 × 14 7/8 in. (45.6 × 37.8 cm)Courtesy of the artists; Gavin Brown's enterprise, New York; and Nanzuka, Tokyo
HAMMER PROJECTS: OLIVER PAYNE AND KEIICHI TANAAMI
6 May – 27 August 2017

Curated by Aram Moshayedi

In a suite of collages, Payne and Tanaami merge their distinct artistic sensibilities with histories of desire and consumption into a single hallucinatory fantasy. As a progenitor of Japanese Pop art in the late 1960s, Tanaami has been an influential figure in postwar Japan, impacting the ways in which many artists, including Payne, consider their work in relation to forms of popular culture. In particular, Payne focuses on characteristics of video game culture that are analogous to broader social and philosophical concepts. Thus, the collaboration reflects a wider cultural exchange of ideas that Tanaami—as part of an international pop movement—has played an instrumental role in developing.

This presentation marks the first collaboration between the artists. As a true fan, and an artist who organizes his practice through the logic of fandom, Payne holds Tanaami's work in high regard. Their process began with a series of drawings that Tanaami executed, which became the groundwork for Payne's meticulous application of bullet hell stickers. The collages bring together two disparate senses of pictorial space and seek to approximate the visual logic of video games. As a recurring theme in his work, Payne considers the processes of art viewership to be analogous to how a player might identify with a given screen.

Much like a kaleidoscopic curtain of distractions in a classic arcade game, the stickers become a scrim through which Tanaami's drawn figures reveal themselves. The viewer's eye must, therefore, navigate each image, deciphering the seemingly chaotic array of projectiles, bombs, and other forms of ballistic assault. As much as these works presume a viewing scenario that is upright, horizontal, and wallbound, they are also meant to be read from the orientation of a gamer, who identifies with an avatar at the bottom of a screen as it battles its way upward to the objective of victory.