Hammer Projects: Wael Shawky
17 Aug 2013 - 05 Jan 2014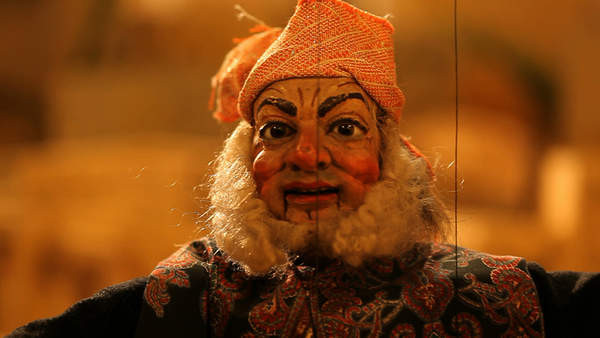 © Wael Shawky
Cabaret Crusades: The Horror Show File, 2010 (video still)
HD Video, color, sound . 31:49min.
Courtesy of the artist and Sfeir-Semler Gallery, Beirut/Hamburg.
HAMMER PROJECTS: WAEL SHAWKY
17 August 2013 - 5 January 2014

Cabaret Crusades is an ongoing project, initiated by the Egyptian artist Wael Shawky in 2010, that tells the story of the Crusades—the military expeditions to the Holy Land undertaken by European Christians from the eleventh to the thirteenth century—through images that reflect the perspective of those who experienced the invasions. Informed by Amin Maalouf's book The Crusades Through Arab Eyes, the drawings, objects, and films that make up the project draw on various historical sources to present an unfolding sequence of significant occurrences that set the tone for the relationship between the Arab world and the West. The Hammer Museum will present Cabaret Crusades: The Horror Show File (2010), which is the first film of Shawky's multipart film series within this project. Using 200-year-old marionettes from the Lupi collection in Turin as characters, the film traces the history of the early Crusades (1096–99), beginning with Pope Urban II's invasion of the Arab countries. Historically accurate in its depiction of the places in the Middle East and Europe that set the stage for this conflict, the film is layered with a surreal and mythical atmosphere as the marionettes embody key figures whose past actions and decisions continue to impact our current moment. Hammer Projects: Wael Shawky is organized by guest curator Cesar Garcia.

Biography
Wael Shawky was born in 1971 in Alexandria, Egypt, where he lives and works today. He studied fine art at the University of Alexandria before receiving his MFA from the University of Pennsylvania in 2000. His work has been included in major international exhibitions, including the 2013 Sharjah Biennial; Documenta 13, Kassel, Germany (2012); the ninth Gwangju Biennial, Gwangju, South Korea (2012); the SITE Santa Fe Biennial (2008); the ninth International Istanbul Biennial (2005); and the fiftieth Venice Biennale (2003). Shawky has had solo exhibitions at the KW Contemporary Art Institute, Berlin (2012); Nottingham Contemporary, Nottingham, England (2011); the Walker Art Center, Minneapolis (2011); the Delfina Foundation, London (2011); Cittadellarte-Fondazione Pistoletto, Biella, Italy (2010); Townhouse Gallery, Cairo (2005, 2003); and other venues. He has received various awards, including the Award for the Filmic Oeuvre created by Louis Vuitton and Kino der Kunst (2013); Abraaj Capital Art Prize (2012); Kunstpreis der Schering Stiftung (2011); and the Grand Prize, 25th Alexandria Biennale, Alexandria, Egypt (2009). In 2011 he was an artist-in-residence at the Center for Possible Studies, Serpentine Gallery, London. Shawky is the founder of MASS Alexandria, a studio program for young artists. .