Houseguest: Frances Stark Selects From The Grunwald Collection
23 Oct 2010 - 26 Jan 2011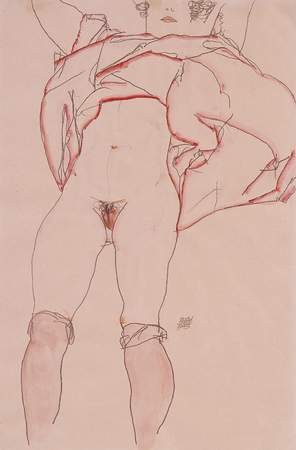 Egon Schiele
Maedchen mit den violetten Strumpfen (Girl with Purple Stockings), 1913
Graphite and watercolor. Collection UCLA Grunwald Center for the Graphic Arts, Hammer Museum. Mary Elizabeth Braun Estate
HOUSEGUEST: FRANCES STARK SELECTS FROM THE GRUNWALD COLLECTION

October 23 - January 26, 2011

Houseguest is a series of exhibitions at the Hammer Museum in which individual artists are invited to curate a show from the Museum's and UCLA's diverse collections. For this exhibition, Los Angeles-based artist Frances Stark chose to sift through the works in the Grunwald Center for the Graphic Arts, a collection of more than 45,000 prints, drawings, photographs and artist books dating from the Renaissance to the present. Stark began her research without a specific theme in mind, a process she describes as "surrendering to taste and to the chance of discovery." She found herself instinctively drawn to figurative and metaphorical renditions of man and woman. Her exhibition takes the form of a visual essay on the sexes, transporting the viewer through a panoply of humanity with themes of creation, reproduction, pleasure, the essence of the body, relationships, identity, and death. Stark eliminated photography from the outset, and focused on the intuitive lines of prints and drawings in works by artists such as Jacques Callot, Francisco Goya, Edgar Degas, Egon Schiele, Isabel Bishop, Kenneth Price, Mike Kelley, and Agnes Martin.

Biography
Frances Stark was born in Newport Beach, CA in 1967 and lives and works in Los Angeles, CA. She received an MFA from Art Center College of Design, Pasadena, CA in 1993, and also teaches at the University of Southern California. Her one-person exhibitions have been presented internationally at venues including the Center for Contemporary Art, Glasgow, Scotland; greengrassi, London; Marc Foxx, Los Angeles, CA; CRG, New York, NY; Galerie Daniel Buccholz, Cologne, Germany; Secession, Vienna; Portikus, Frankfurt; van Abbe Museum, The Netherlands; Nottingham Contemporary, Nottingham, UK; and the Hammer Museum, Los Angeles, CA. Stark's work has been included in thematic exhibitions including the 2008 Whitney Biennial, Whitney Museum of American Art, New York; Learn to Read, Tate Modern, London; Fit to Print: Printed Media in Recent Collage, Gagosian Gallery, New York; Romantic Conceptualism, Nurenberg Kunstverein & BAWAG Foundation, Vienna; The Space of Words, Museum of Contemporary Art (MUDAM), Luxembourg; Picturing the Studio, Sullivan Galleries at The School of the Art Institute Chicago; Poor.Old.Tired.Horse., Institute of Contemporary Arts, London; and INDEX, conceptualism in California from the permanent collection, Museum of Contemporary Art, Los Angeles, CA.

This exhibition is organized by Allegra Pesenti, curator, Grunwald Center for the Graphic Arts at the Hammer.