Jonas Wood
05 Feb - 09 May 2010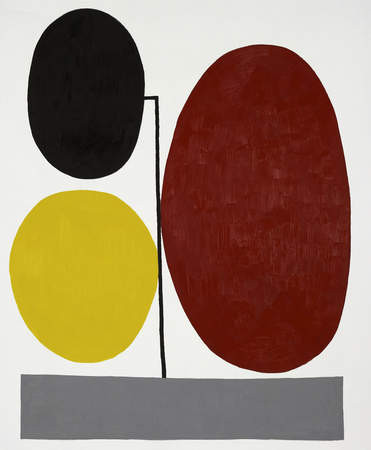 © Jonas Wood
Untitled (3 Big Dots). 2009
Oil on linen. 46 x 38 in. (116.8 x 96.5 cm).
Courtesy of the artist, Anton Kern Gallery, New York, and Shane Campbell Gallery, Chicago.
JONAS WOOD

February 5 - May 9, 2010

Jonas Wood paints scenes of the world around him through the prism of his memory. Deploying genres as time-honored as the medium itself, Wood paints portraits, interiors, and still lifes. His immediate surroundings are his subjects: family and friends, domestic or studio spaces, tabletop arrangements of ceramic vessels and plants, and landscapes. Through his prolific practice, Wood is building a visual diary of sorts, an ever-expanding documentary of personal memories and interests. Usually painting from collaged photographs, Wood takes delightful liberties with background, scale, and color, often distorting figures, employing unusually vivid hues, or adding a work of art in place of a family photo in an interior scene.

For the past year, Wood has been painting a new series of still lifes which will be presented for the first time in this exhibition. Evolving out of his ongoing series of tabletop scenes of arrangements of potted plants and vases displaying cut flora, these new paintings each feature a rectilinear form with branching lines and geometric shapes reaching out and upward into the picture planes. Painted in bright colors and solid black against monochrome backgrounds, the forms recall Wood's more realistically rendered potted plants as well as abstract sculptures atop plinths. Evocative of the Modernist sculptures of David Smith or Alexander Calder as well as Henri Matisse's boldly-colored abstract collages, these more abstract works combine Wood's interest in direct experience with his fascination with the many forms and genres found throughout art history.

Hammer Projects: Jonas Wood is Jonas Wood's fist one-person museum exhibition and is organized by Anne Ellegood, Hammer senior curator, and Corrina Peipon, Hammer curatorial associate.

Jonas Wood was born in 1977 in Boston, Massachusetts and lives in Los Angeles. He received a BA in psychology in 1999 from Hobart and William Smith Colleges and a MFA in painting and drawing from the University of Washington in 2002. Wood's work has been the subject of one-person exhibitions at MinMin Gallery, Tokyo; Shane Campbell Gallery, Chicago; Anton Kern Gallery, New York; and Black Dragon Society, Los Angeles. His work has been included in thematic exhibitions including Copy, White Columns (2009), New York and Modern Lovers, Glendale College Art Gallery, Glendale, CA (2007) and will be part of Hard Targets, Wexner Center for the Arts, Columbus, OH (2010).