Keren Cytter
05 Jan - 04 Apr 2010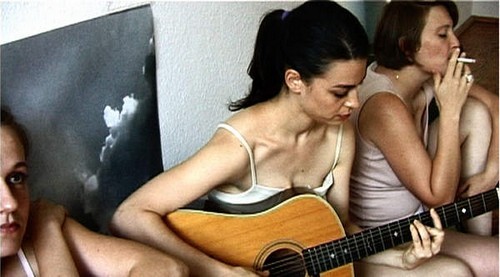 © Keren Cytter, Der Spiegel, 2007
Digital video, color, sound. 4:30 min.
Courtesy the artist and Pilar Corrias Gallery, London
KEREN CYTTER

5 January - 4 April 2010

Born in Tel Aviv and currently living in Berlin, Keren Cytter makes films that portray characters entangled in complicated relationships, simultaneously connected and alienated from one another. Inspired by direct experiences and observations of her surroundings as well as the films, plays, and novels of such luminaries as Alfred Hitchcock, John Cassavetes, Roman Polanski, Tennessee Williams, and Samuel Beckett, her work is carefully scripted and produced while maintaining a sense of spontaneity and unpredictability. While past films have been shot in her apartment with a cast of friends and acquaintances, her untitled work for last summer's Venice Biennale was filmed with professional actors on a stage with a live audience, exploring the notion of identity in relationship to role-playing. Cytter's non-linear narratives and use of a hand-held camera create absurdly abstract sequences of highly dramatic interactions and events, infused with both humor and pathos.

Organized by Anne Ellegood, Hammer senior curator.