Mark Flores
30 Oct 2010 - 14 Apr 2011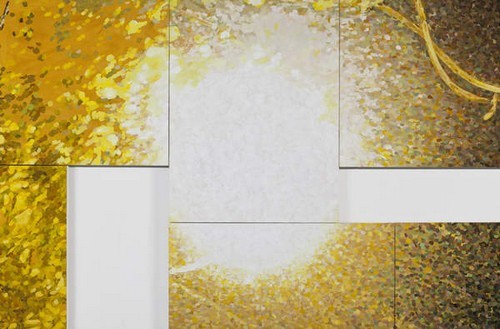 © Mark Flores
See This Through, 2009-10
Detail. 99 oil on canvas panels and 1 pastel on paper drawing. Variable dimensions.
Courtesy of the artist and David Kordansky Gallery, Los Angeles.
Photo by Brian Forrest.
MARK FLORES

October 30 - April 14, 2011

Los Angeles-based painter, Mark Flores translates the optically-driven mechanics of the photographic process into color-saturated handmade paintings. His ambitious Hammer Project will consist of ninety-nine individual paintings layered and juxtaposed across the lobby wall. Painted alternately with an expressive, brushy technique and a labor-intensive benday-like technique in which the CMYK colors of the printing process are layered upon one another in small dots, the paintings are based on photographs taken by Flores during hours-long journeys in which he walked the full length of Sunset Boulevard, both during the day and at night. The imagery runs the gamut from architecture to landscape, creating an idiosyncratic, and highly personal, map of the city that is both representational and abstracted, both historically rooted and of-the-moment, ending at the top of the stairs with a large pastel drawing of the ocean. In addition to this multi-paneled work, the exhibition will include a digital slide show of the hundreds of photographs Flores took. Flores's cityscape serves to capture and lovingly represent the passage of time, focusing our attention on aspects of our environment that might have otherwise gone unnoticed. Hammer Projects: Mark Flores will be the artist's first solo museum exhibition.


ESSAY

By Anne Ellegood

One does not get lost but loses oneself, with the implication that it is a conscious choice, a chosen surrender, a psychic state achievable through geography. —Rebecca Solnit (1)

In 1973 Dutch artist Bas Jan Ader walked from dusk to dawn from the Hollywood Hills to the Pacific Ocean. This was the first part of a project titled In Search of the Miraculous, and in the second part, Ader infamously set sail alone from Cape Cod, heading across the Atlantic to Europe, a journey that he never completed. Many have called Ader's solitary treks searches for the sublime. Certainly he was examining specific characterizations of the artist—as hero, for example, or as lone figure exploring his relationship to the world. Other artists, too, have made walks integral to their practice or central to a specific piece. Hamish Fulton calls himself a "walking artist." Richard Long's many in situ sculptures created during long walks also come to mind, as do Douglas Huebler's spatial mappings of urban areas, Marina Abramović and Ulay's walk along the Great Wall of China (1988), and Francis Alÿs's The Leak (1995), in which he walked around São Paulo dripping a line of blue paint from a leaking can. These walks were undertaken for different reasons—political, environmental, empirical, temporal, geographic, conceptual—but each one is a portrait of a place experienced through the perspective and, moreover, the body of the artist. More

Biography
Mark Flores was born in Ventura in 1970 and currently lives in Los Angeles. He received his MFA in 2002 from CalArts and his BA from UCLA in 1999. Flores has had solo exhibitions at David Kordansky Gallery in Los Angeles and Alison Jacques Gallery in London. His work was also included in group exhibitions at the Museum of Contemporary Art, Chicago; Orange County Museum of Art, Newport Beach; Patricia Faure Gallery, Santa Monica; California State University, Los Angeles; Golinko Kodansky Gallery, Los Angeles. Reviews and articles of Flores' work have appeared in Artforum, Flash Art, Los Angeles Times, Frieze, and The New York Times.
This exhibition is organized by Anne Ellegood, Hammer senior curator.