Recent Acquisitions From The Grunwald Center For The Graphic Arts
15 Oct 2011 - 15 Jan 2012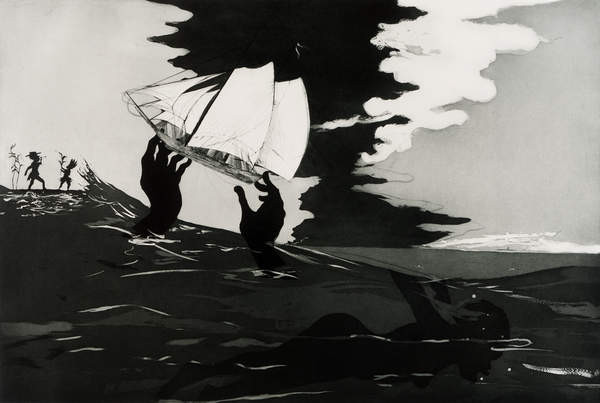 © Kara Walker
no world, from An Unpeopled Land in Uncharted Waters), 2010
Etching with aquatint, sugar-lift, spit-bite, and drypoint,
30 1/4 x 39 1/2 in. (76.8 x 100.3 cm).
Collection UCLA Grunwald Center for the Graphic Arts, Hammer Museum. Purchased with funds provided by the Helga K. and Walter Oppenheimer Acquisition Fund.
Photo: Robert Wedemeyer
RECENT ACQUISITIONS FROM THE GRUNWALD CENTER FOR THE GRAPHIC ARTS
15 October, 2011 - 15 January, 2012

In 1956 Los Angeles collector Fred Grunwald made an extraordinary gif t of more than 5,000 works on paper to establish the Grunwald Center for the Graphic Arts at UCLA. Today the center's collection has grown to more than 45,000 prints, drawings, photographs, and artists' books, dating from the Renaissance to the present. This exhibition includes a selection of works acquired by the Grunwald Center during the past five years. They range from a vibrant sixteenth-century engraving by Renaissance artist Hieronymus Wierix to a large-scale aquatint from 2010 by artist Julie Mehretu. Other artists represented in the exhibition include Pieter Bruegel the Elder, Enrico Castellani, Vija Celmins, Robert Gober, Robert Heinecken, and Kara Walker.

Organized by Cynthia Burlingham, director; and Allegra Pesenti, curator, UCLA Grunwald Center for the Graphic Arts.