Rembrandt Prints
09 Jan - 04 Apr 2010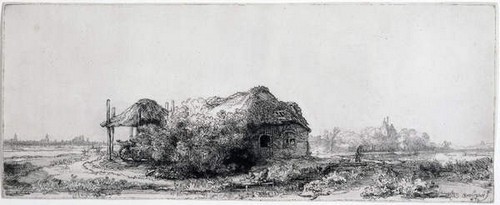 Rembrandt van Rijn
Cottage and Hay Barn, 1641
Etching and drypoint.
Sheet: 5 1/8 x 12 13/16 in. (13 x 32.5 cm).
Collection of UCLA Grunwald Center for the Graphic Arts. Rudolf L. Baumfeld Bequest.
REMBRANDT PRINTS

January 9 - April 4, 2010

Rembrandt van Rijn was a prolific printmaker and created about 300 etchings over the course of his long career. The exhibition includes a variety of etchings with subjects ranging from religious narratives to figure studies and landscape. Drawn from the extensive collection of the Hammer's Grunwald Center for the Graphic Arts, as well as other institutions, including the Los Angeles County Museum of Art and the Norton Simon Museum, the exhibition also features different impressions of the same print, allowing the visitor to closely compare the compositions and see how the artist experimented with each individual impression.

This exhibition is organized by Cynthia Burlingham, director, Grunwald Center for the Graphic Arts, and deputy director of collections at the Hammer. Organized in collaboration with a major exhibition of Rembrandt's drawings at the Getty Museum, from December 8, 2009, to February 28, 2010, as well as an exhibition of Rembrandt's protraits at the Norton Simon Museum, from December 4, 2009, to March 22, 2010.

Rembrandt Prints is made possible, in part, by the Gladys Krieble Delmas foundation.