Robert Heinecken
03 Oct 2014 - 18 Jan 2015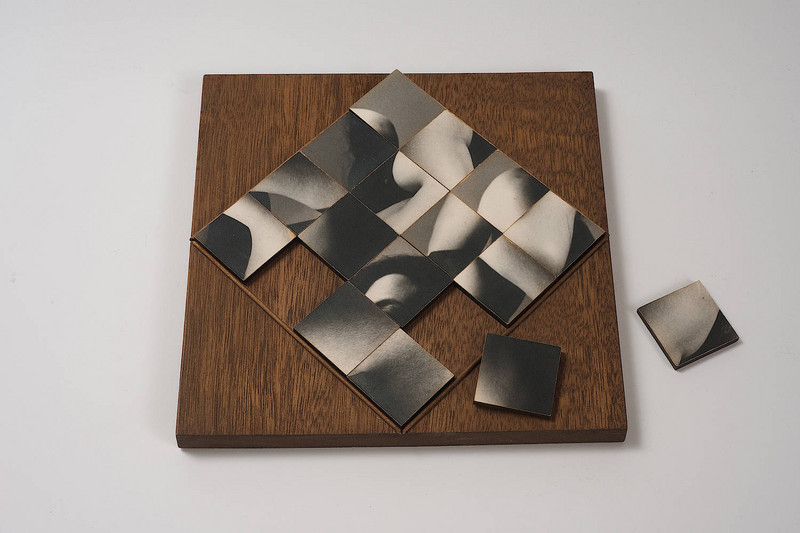 Robert Heinecken
Multiple Solution Puzzle, 1965
Sixteen gelatin silver prints on wood.
11 1/4 × 11 1/4 × 1 in. (28.6 × 28.6 × 2.5 cm) overall.
Collection Maja Hoffmann, Zurich. © 2014 The Robert Heinecken Trust
ROBERT HEINECKEN
Object Matter
3 October - 18 January 2015

Robert Heinecken (1931–2006) was a pioneer in the postwar Los Angeles art scene. Describing himself as a "para-photographer," because his work stood "beside" or "beyond" traditional ideas associated with photography, Heinecken worked across multiple mediums, including photography, sculpture, video, printmaking, and collage. Culling images from newspapers, magazines, pornography, and television, he recontextualized them through collage and assemblage, double-sided photograms, darkroom experimentation, and rephotography. Although Heinecken was rarely behind the lens of a camera, his photo-based works question the nature of photography and radically redefine the perception of it as an artistic medium. His works explore themes of commercialism, Americana, kitsch, sex, the body, and gender. In doing so, they also expose his obsession with popular culture and its effects on society, and with the relationship between the original and the copy.

This survey exhibition, organized by the Museum of Modern Art, New York, covers four decades of the artist's remarkable, unique practice, from the early 1960s through the late 1990s. Although Heinecken was prolific, this exhibition is a focused presentation of his major works, emphasizing early experiments that investigated technique and materiality and sought to destabilize the very definition of photography. Heinecken's innovative and diverse experimentation resonates deeply with current artistic practice, and his prescient exploration of the definition of photography, the possibilities of appropriation, and the limitations of artistic categories is as relevant today as it was 50 years ago.