Roberto Cuoghi
22 Jan - 15 May 2011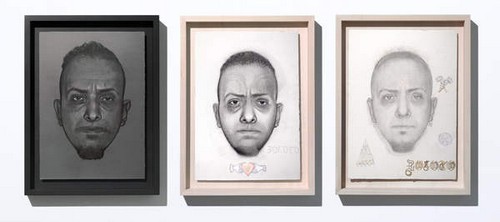 © Roberto Cuoghi
Self portrait, 2010
Mixed media on paper.
Triptych: 18.11 x 48.6 x 2 in. (46 x 34.5 x 5 cm) each.
Courtesy the artist and Galleria Massimo de Carlo, Milan.
ROBERTO CUOGHI

January 22 - May 15, 2011

Italian artist Roberto Cuoghi makes videos, sculpture, paintings, and drawings, in a variety of unconventional media, which expand on the possibilities for transformation and question our understanding of identity. For his most legendary work, the artist, at the time a pierced punk, decided to followed his father's daily routine of eating, dressing and working, and eventually came to resemble the middle-aged man. He created a monumental sculpture after a tiny bronze statue from the collection of the Louvre, of an Assyrian deity Pazuzu, king of the demons of the wind. He hand-crafted a number of ancient musical instruments, which he then used in a musical accompaniment to his own singing of a lamentation from 612 b.c. invoking the protection of the Assyrian gods. For his Hammer Projects exhibition, his first solo show in the U.S., Cuoghi presents a new series of self-portraits depicting the artist in a variety of personae, as if he had traveled down a different path in life, along with a black Carrara marble sculpture of the demon god Pazuzu.

Organized by Ali Subotnick, Hammer curator.

Biography
Roberto Cuoghi was born in Modena, Italy in 1973 and lives and works in Milan. He studied at the Brera Academy of Fine Arts in Milan. Solo exhibitions of his work have been presented at Castello di Rivoli, Turin, Italy (2008); ICA London, London, England (2008); Centre International d'Art et du Paysage de l'Île de Vassivière, Beaumont du Lac, France (2008); and GAMeC Galleria d'Arte Moderna e Contemporanea, Bergamo, Italy (2003), among others. His work has been included in several important international exhibitions including 10,000 Lives, Gwangju Biennale, Gwangju, South Korea (2010); Skin Fruit: Selections from the Dakis Joannou Collection, New Museum, New York (2010); 21x21: 21 artists for the 21st Century; Fondazione Sandretto Re Rebaudengo, Turin, Italy (2010); Making Worlds, 53rd Venice Biennale, Venice, Italy (2009); Italics: Italian Art between Tradition and Revolution 1968-2008, Palazzo Grassi, Venice, Italy (2008) and MCA Chicago, Chicago, IL (2009-10); After Nature, New Museum, New York (2008); Fractured Figure - Works from the Dakis Joannou Collection, Deste Foundation Centre For Contemporary Art, Athens, Greece (2007); and Of Mice and Men, 4th Berlin Biennial for Contemporary Art, Berlin, Germany (2006). He received a special mention for his work Mei Gui that was featured in the 53rd Venice Biennale in 2009. This will be his first solo museum exhibition in the U.S.