Selections From The Grunwald Center and The Hammer Contemporary Collection
19 Jan - 28 Apr 2013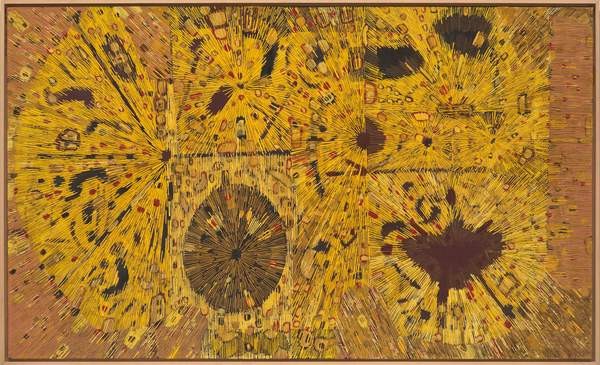 Lee Mullican
Ninnekah Calendar (detail), 1951
Oil on canvas
30 x 50 1/8 in. (76.2 x 127.3 cm).
Hammer Museum, Los Angeles. Purchase and partial gift of Bill Resnick. Photography by Brian Forrest.
SELECTIONS FROM THE GRUNWALD CENTER AND THE HAMMER CONTEMPORARY COLLECTION
19 January - 28 April 2013

In 2005 the Hammer launched an exciting initiative to build a collection of contemporary art through both purchases and gifts. Acknowledging the breadth of mediums engaged by contemporary artists, this growing collection comprises works in drawing, film, painting, photography, sculpture, and video made by artists from Southern California and around the world. The collection of the UCLA Grunwald Center for the Graphic Arts, established in 1955, has grown to more than 45,000 prints, drawings, photographs, and artists' books, dating from the Renaissance to the present. The scope of both collections is rich and varied, with strengths in an array of mediums and in different thematic and historical genres. This exhibition acknowledges the donors and friends whose generosity has helped to form these exceptional collections and highlights recent purchases, including works by Carlos Amorales, Jimmie Durham, Omer Fast, Thomas Kovachevich, Charles Long, Lee Mullican, Kori Newkirk, Mary Weatherford, Pae White, and David Wojnarowicz. This exhibition is organized by Cynthia Burlingham, deputy director, curatorial affairs and director, Grunwald Center for the Graphic Arts, and Anne Ellegood, senior curator.