Stephen G. Rhodes
19 Jun - 26 Sep 2010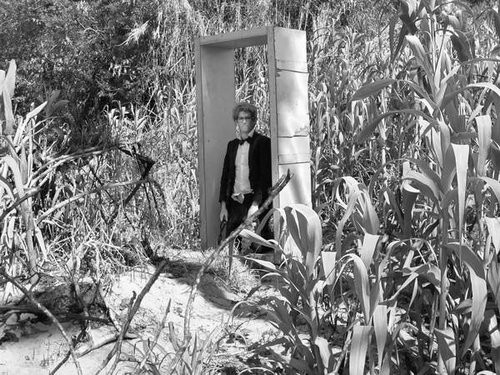 © Stephen G. Rhodes
Receding Mind: Circle of Shit, 2010
Production still. Courtesy of the artist and Overduin and Kite, Los Angeles.
STEPHEN G. RHODES

June 19 - September 26, 2010

Los Angeles–based artist Stephen G. Rhodes multimedia installations darkly theatricalize the historical unconscious, borrowing strategies of pedagogical entertainment found in theme parks, period cinema, and museum displays. When Rhodes takes on a topic, he literally tackles it, ungluing the various parts (overt or subliminal) to reveal the underbelly of his subject. In the film installation on view at the Hammer—inspired by Steve Allen's late-1970s television chat show, Meeting of Minds, which featured dramatized roundtable discussions among historical figures such as Cleopatra, Aristotle, Francis Bacon, Attila the Hun, and Emily Dickinson--Rhodes stages a collision of mediums, citations, and narrative contingencies, offering an impossible history lesson that must be negotiated both architecturally and cinematically.

Biography
Stephen G. Rhodes was born in Houston, Texas in 1977, raised in Louisiana, and currently lives in Los Angeles. He received a BFA from Bard College, Annandale, NY (1999), and a MFA from Art Center College of Design, Pasadena, CA (2005). Rhodes has exhibited widely in the U.S. and Europe and was included in Prospect 1 biennial, New Orleans, LA; The Generational: Younger than Jesus, the New Museum, New York, NY; and Between Two Deaths, ZKM Center for the Arts and Media, Karlsruhe, Germany. He was also featured in Second Nature: The Valentine-Adelson Collection at the Hammer Museum (2009). Hammer Projects: Stephen G. Rhodes is his first one-person museum exhibition.

This exhibition is organized by Ali Subotnick, Hammer curator.