Yoshua Okón
13 Aug - 16 Nov 2011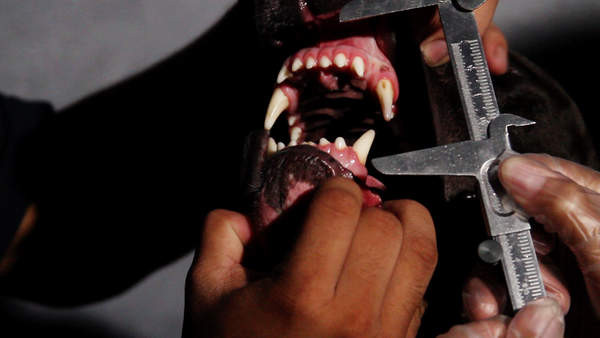 © Yoshua Okón, Hot Dog Stick, 2010
Video still. Two-channel video installation. 8:25 min.
Image courtesy the artist
YOSHUA OKÓN
13 August - 16 November, 2011

Mexican artist Yoshua Okón's videos blur the lines between documentary, reality, and fiction. He collaborates closely with his actors (often amateurs who are also the subjects of the work) to create sociological examinations that ask viewers to contemplate uncomfortable situations and circumstances. He works with marginalized groups such as pit-bull owners, Nazi-war memorabilia collectors, and Venice Beach homeless people, in order to reflect back onto mainstream culture. For this show, Okón debuts a new two-channel video installation which was produced during his residency at the Hammer. The work, shot on location at a Los Angeles Home Depot store, explores the relationships amongst Guatemalan day laborers who at home fought on opposite sides, yet here in the U.S. are working together in their efforts to find work.

Yoshua Okón was born in Mexico City in 1970, where he currently lives. He received his BFA from Conordia University in Montreal, Canada in 1994 and his MFA from University of California, Los Angeles in 2002 with a Fulbright scholarship. Okón founded the artist-run space La Panadería in 1994 and the artist-run space and school SOMA in 2009, both in Mexico City. Okón's work has been presented in one-person exhibitions at Yerba Buena Center for the Arts, San Francisco; Galería Gabriela Mistral in Santiago, Chile; Museo de Arte Carrillo Gil in Mexico City, Mexico; Viafarini, Milan, Italy; Armory Center for the Arts, Los Angeles, CA; Lothringer 13 - Städtische Kunsthalle, Munich, Germany; Galería Revolver, Lima, Perú; The Project, New York and Los Angeles; Herzeliya Museum, Herzeliya, Israel; Galleria Francesca Kaufmann in Milan, Italy; and Art & Public, Geneva, Switzerland. Okón has been included in numerous thematic exhibitions such as The Workers, Mass MOCA, West Adams; Amateurs, Wattis Institute for Contemporary Art, San Francisco; Laughing in a Foreign Language, Hayward Gallery, London, The Age of Discrepancy, MUCA, Mexico City, Mexico; Mercosur Bienial, Porto Alegre, Brazil; Pantagruel Syndrome, Torino Triennale, Castello di Rivoli, Turin, Italy; The Virgin Show, the Wrong Gallery, New York; Adaptive Behaviour, New Museum, New York; Don't Call It Performance, Museo Reina Sofia, Madrid, Spain and Museo del Barrio, New York City; Istanbul Biennial, Istanbul, Turkey; ICP Triennial, New York; Terror Chic, Sprüth/Magers, Munich, Germany; and Mexico City: an exhibition about the exchange rates between bodies and values, PS1, MoMA, New York, and Kunstwerke, Berlin, Germany.