Yuri Ancarani
27 Sep 2014 - 18 Jan 2015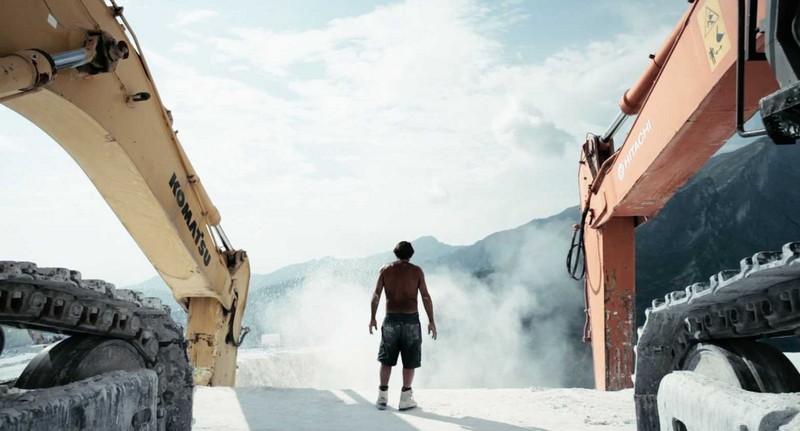 © Yuri Ancarani
Still from Il Capo, 2010
35mm film, color, 5.1 Dolby Digital audio. 15 min.
Courtesy of the artist and ZERO . . . , Milan.
YURI ANCARANI
27 September - 18 January 2015

Italian artist Yuri Ancarani makes seductive, hypnotic, engrossing films that delve deep into obscure subjects. This is his first solo exhibition in the U.S., and it will feature La malattia del ferro (The disease of iron; 2010–12), a trilogy of short films, each focusing on a highly specialized occupation. The title refers to a syndrome similar to cabin fever, which sailors experienced after being out at sea for great lengths of time. The first film in the series, Il Capo (2010) is a beautiful portrayal of the Carrara marble quarry and the magnanimous foreman directing his crew like an orchestra conductor. Piattaforma Luna (2011) takes us inside the rarely seen daily routine of scuba divers on board a submarine, stationed deep below the surface of the ocean. Da Vinci (2012), features a surgical robot whose mechanical arms perform an operation (guided by a surgeon working remotely), and exquisitely captures the procedure from the inside and out. Together, the three films explore the interdependent relationship between man and machine and the beautiful choreography of labor.

Hammer Projects: Yuri Ancarani is organized by Hammer curator Ali Subotnick with Emily Gonzalez, curatorial associate.

Yuri Ancarani (b. Ravenna, Italy, in 1972; lives and works in Milan) has shown his films in film festivals and exhibitions throughout Europe. Recent screenings have been presented at CAC, Centre d'Art Contemporaine, Geneva (2012); MAXXI (Museo nazionale delle arti del XXI secolo), Rome (2012); Solomon R. Guggenheim Museum, New York (2012); N.O. Gallery, Milan (2010); Tirana Institute of Contemporary Art, Tirana, Albania (2008). His film Da Vinci was featured in The Encyclopedic Palace, 55th International Venice Biennale (2013), and he has participated in group exhibitions such as Sotto la Strada, la spiaggia, Fondazione Sandretto Re Rebaudengo, Turin (2012), and the fifth Prague Biennial (2011). He has received numerous awards and honors, including the Short Film Grand Prize at the 10th International Independent Film Festival, Lisbon; the Audience Award at the Short Film Festival in Trondheim, Norway; and the Grand Prix in Lab Competition, Clermont-Ferrand Film Festival. Ancarani was a finalist for the 2014 Premio MAXXI, and he presented a new work, San Siro (2014), in an exhibition at MAXXI, Rome, that opened in late May 2014.