Dieter Roth andBjörn Roth
06 Nov 2013 - 09 Feb 2014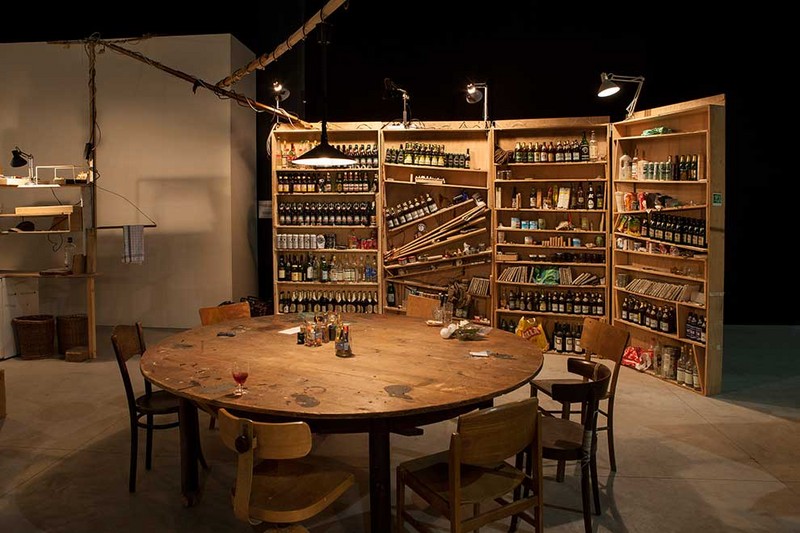 Dieter Roth and Björn Roth
Islands. Installation view HangarBicocca, Milan, 2013. Photo by Agostino Osio. Courtesy Fondazione HangarBicocca, Milan. All works © Dieter Roth Estate, Courtesy Hauser & Wirth.
DIETER ROTH AND BJÖRN ROTH
Islands
6 November 2013 - 9 February 2014

Curated by Vicente Todolí

The exhibition
For the first time in Italy, the Islands exhibition - curated by the Artistic Advisor Vicente Todolì - brings together 100 works by Dieter Roth (Hannover, 1930–Basel, 1998), a key figure on the international art scene of the past fifty years. It is being put on with the collaboration of his son Björn. The display is quite unique in the way that the imposing installations interact with the former industrial space of HangarBicocca. An insatiable researcher in many fields of creativity and knowledge, Dieter Roth was a graphic artist, poet, expert in music, and designer. He explored every medium and type of art, combining painting, sculpture, printing, photography, videos and sound in all-encompassing works. Fascinated by the mechanisms of transformation, Roth used a vast array of materials and objects such as utensils, furnishings, monitors, and food in a process that revealed the constant mutability of the work.

Economy Bar, 2004-2013, opens the exhibition and is a concrete illustration of the disruption between art and the real world, which is key to Dieter Roth's art. Consisting of a counter and many other elements, a fully functioning bar has been used throughout the history of his exhibitions, both by visitors and by the artist's friends, as a place for refreshment, and it is again being included as such at HangarBicocca. Solo Szenen (Solo Scenes), 1997-1998, consists of 131 monitors with scenes shot by Dieter Roth during the last year of his life. Set mainly in his studios in Iceland and Switzerland, the images show him in a number of domestic scenes going about his daily activities. The fleeting nature of existence is narrated in the greatest detail in Flacher Abfall (Flat Waste), a project the artist worked on for almost twenty years, collecting and archiving waste materials such as old food packaging, receipts, tickets, labels, letters, and other traces of everyday life. He later catalogued all these materials, which he amassed day by day, and placed them all in separate transparent plastic folders, inserting them in chronological order into binders which he then put on display on shelves. Dating from 1992 and 1998 respectively, The Floor I, 1973-1992 and The Floor II, 1977-1998 are the actual floors of Dieter Roth's studio in Mosfellsbær, Iceland. Carpet, 1985-1995, consists of a large carpet hanging down from the ceiling of HangarBicocca. Started in the early 1970s, Tischmatten, 1979-1998, are visual diaries consisting of an accumulation of short notes and drawings, and food eaten on the surfaces of the work tables in Roth's studios. The Studio of Dieter and Björn Roth, 1995-2008, is quite simply a number of parts of Roth's studio in St. Johanns-Vorstadt (Basel), where father and son started working together in 1995. The Piccadillies form one of the artist's most original and interesting projects. First devised in the late 1960s, the series is based on an innovative printing process invented by the artist himself together with his publisher friend Hansjörg Mayer and Paul Cornwall Jones of the Petersburg Press, London. The images come from a postcard of the famous London square that was given to Dieter by Richard Hamilton's wife, Rita Donagh. Fascinated by the postcard as a cheap, popular object, Roth blew up and processed the images, creating several prints that, when juxtaposed and superimposed on each other, formed large swathes of color. Graphic experimentation also plays a significant role in the works that portray the island of Surtsey, off the coast of Iceland, which formed in 1963 after the eruption of an underwater volcano. This can be seen in SURTSEY, 1973-1974, and in SURTSEY – Dinner, 1973-1993/2003, in which the island is shown on a dish, as though it were steaming food.

One of the largest, most complex works in the exhibition is Grosse Tischruine (Large Table Ruin), 1978-1998, which was created by turning the work table in his Stuttgart studio into an installation. The Relatively New Sculpture, 2013, which has been made especially for the HangarBicocca exhibition space by Björn Roth, together with his sons Einar and Oddur and some of their close assistants, is a work of enormous visual impact: it consists of a scaffold that can be accessed by the viewer. It is divided into two square platforms connected by a passageway, on which a number of musical instruments and other objects are in active play and offering a birds-eye view of the whole exhibition. New York Kitchen, 2013, is a kitchen that in HangarBicocca was used for the creation of Selbstturm (Self Tower), Coquillen-Zwerge (Coquille Gnomes), and Zuckerturm (Sugar Tower). These works refer directly to the notion of the perishability of materials, which was so much a feature of the Schimmelmuseum. Selbstturm is a tower consisting of hundreds of cast of a self-portrait of the artist made out of chocolate and stacked on glass plates Coquillen-Zwerge (Coquille Gnomes), 1994-2013, on the other hand, is a stack of blocks of chocolate one on top of the other, cast with garden gnomes. Next to these two works is Zuckerturm (Sugar Tower), 1994-2013, with multiple colored cast sugar forms resting on a movable structure. The concept of the multiple often returns both in Roth's sculptural works and in his graphics. One of the most significant example of this are die Die DIE VERDAMMTE SCHEISSE (the The THE DAMNED SHIT), 1974/1975, obtained by recycling copper plates rejected by a printing shop as "defective". The artist salvages these rejects, adds further engravings to them and uses them, asserting the value of the recovery process applied not just to the materials but also to the images themselves. The series of paintings called Material Pictures, which he started in the second half of the 1970s, is characterized by its mix of media, based on the coexistence of gestural painting and everyday objects arranged directly on the substrate (canvas, panel or reclaimed material). Two of the works that help understand the importance that Roth attributed to his artistic vision of everyday life and to his autobiographical narrative are Ausicht/Ansicht, 1996, some of the prefabricated walls of a school in Aesch (Switzerland), and Clothes Pictures, 1984-1987, large paintings made using old clothes and shoes coated with colored pigments and glue. The monumental photographic work Reykjavík Slides, Part 1: 1973-1975, Part 2: 1990-1998, is a tribute to the artist's long stay in Iceland. Consisting of more than 30,000 slides that are shown simultaneously by a number of projectors, Reykjavík Slides records every building in Reykjavík, in both summer and winter.

The anthological Islands exhibition at HangarBicocca has been made possible thanks to the support of Novi, Italy's leading company in the chocolate sector. Dieter Roth's works Selbstturm (Self Tower) and Coquillen-Zwerge (Coquille Gnomes) have been made directly on-site, in the exhibition space, by Björn Roth and his assistants, selecting and shaping an immense supply of top-quality, extra fine chocolate from Novi.

The artist
A tirelessly nomadic artist, Dieter Roth (Hannover, 1930 - Basel, 1998) spent the early years of his lifein Germany and Switzerland, where he trained as a graphic artist, studying printing and engraving techniques. From 1961 to 1964 he lived in Iceland, where he set up a small publishing company in Reykjavík. During these years he shifted away from the abstract-geometrical style of Concretism towards the poetic vision of Nouveau Réalisme. Between 1964 and 1966 he lived in the United States, where his first solo exhibition was put on at the Museum College of Art in Philadelphia and where he taught the graphic arts class at the Rhode Island School of Design in Providence. During this period Roth began creating works and prints using organic matter and food, concentrating on the changeability of the work of art. He later travelled around Germany, Austria and Iceland, where he continued his work creating artist's books. At the same time he experimented with found objects and video, producing works that reveal the influence of Fluxus. Roth's work has been acclaimed since the1980s and he represented Switzerland at the Venice Biennale in 1982 with his A Diary installation of 40 films portraying the artist's life. This led to a period of introspection, which was to characterize his later investigations.

In the 1990s, while suffering health problems which led to his death in 1998, he receivedever greater honors and exhibitions devoted to his works in the world's leading institutions. In 1999 Roth was presented posthumously with Solo Scenes at the Venice Biennale directed by Harald Szeemann. Important retrospectives have been shown at MACBA – Museu d'Art Contemporani deBarcelona (2002); at the Museum Ludwig and the Schaulager, Basel (both in 2003); at MoMA PS1 in New York (2004); at the Museu Serralves in Oporto (2008); and at the Camden Arts Centre in London (2013). His works have been shown at three editions (4, 6 and 11) of the most accredited internationalart show documenta.