Virginia Poundstone
19 Nov 2009 - 16 Jan 2010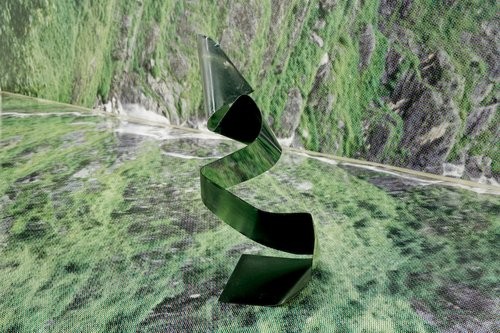 © Virginia Poundstone
Tulipa 'Helmar' (Cultivar Group: Triumph), 2008-2009
Laser printed and powder coated steel, aluminum and ceramic
24 x 14 x 10 inches
VIRGINIA POUNDSTONE
"Illiquid"

19 November – 16 January 2010
Opening Reception: Thursday, November 19, 6-8pm
Gallery Hours: Tuesday through Saturday 11 – 6pm

Harris Lieberman is pleased to present Illiquid, the solo debut of Virginia Poundstone. Spanning the back gallery, the American artist's installation combines industrial and handmade processes to produce a constellation of discrete sculptures that reference nature photography, the floral still life and ceramic arts. These works figure into Poundstone's larger exploration of "illiquid" goods, which depend on arbitrary systems of valuation to sustain market worth. By tracing a history of the flower from its role in the first economic bubble (Tulipomania in 17th Century Holland) to its contemporary trade, Poundstone produces a microcosmic study of global commerce and of the increasing administration of the natural world.
Poundstone employs industrial methods to blow up her documentation of "The Valley of Flowers," in the Himalayas, to advertising-sized images, printed directly onto steel. These sheets are in turn folded, bent, cut and compressed into junklike counterpoints to the overabundant flora of her photographs. In Tulipa 'Helmar' (Cultivar Group: Triumph), Poundstone creates a humorously pathetic, machine-age plant, including a small, tulip-like ceramic suspended by an aluminum wire from a twisted piece of powder-coated steel. Like the massive vinyl, which spans wall and floor, these artworks push photography into an expanded field by transforming printing surfaces into sculptural and environmental scenarios.
Kitchen Counter and Floralife introduce domestic and art-historical layers to Poundstone's project, as a ceramic-tiled box, measuring the dimensions of the artist's own kitchen counter, serves as a pedestal for a messy still life. Composed of broken bits of ceramic that the artist seamed with pigmented, expandable foam, Floralife offers an abject addition to the Dutch painting canon: a collage of naturalistic images and toxic mediums that captures the complexities of the flower trade.
Virginia Poundstone received her BA/BFA from The New School for Social Research/Parsons School of Design and her MFA from Columbia University School of the Arts. Recent Exhibitions include Actions for Urban Spaces, Art in General, New York; Time-Life, Taxter & Spengemann, New York; and Without Walls, Museum 52, New York. Poundstone has also participated in exhibitions at Smack Mellon, New York, The Bronx Museum, New York, Socrates Sculpture Park, New York, Casey Kaplan Gallery, New York, and High Desert Test Sites, California.