Group Exhibition
31 May - 05 Jul 2008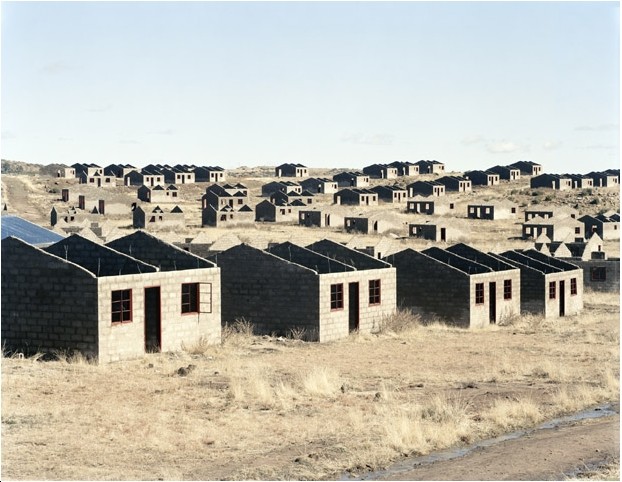 © David Goldblatt
Incomplete houses, part of a stalled municipal development of 1000 houses. Lady Grey, Eastern Cape, 5 August 2006
2006
HOME LANDS-LAND MARKS:CONTEMPORARY ART FROM SOUTH AFRICA
An exhibition presenting new and recent work from seven South African artists at Haunch of Venison London will be the first in London to focus on contemporary South African art since 1995, presenting work by David Goldblatt, Nicholas Hlobo, William Kentridge, Vivienne Koorland, Santu Mofokeng, Berni Searle and Guy Tillim.
Curated by art historian Professor Tamar Garb, the exhibition focuses on images and invocations of landscape which explore contemporary South Africa. Differing from the usual approach to post-apartheid South Africa, the exhibition addresses the complexity of the South African landscape, reflecting upon notions of memory, place and identity, referring to the political context and historical background of South Africa only through the imprint and trace of human experience on the physical landscape.
"I am interested in the specificity of locations and sites and the way in which cultural and individual experience is represented in space through signage, text, inscription and symbolisation," comments Tamar Garb. "The particular historical trajectory of South Africa and the politics of race and place have left their mark upon the landscape through monuments, structures, maps and borders. These, in turn, have found their way into pictures, often providing the keys to the identification and interpretation of events, legacies and locations."
Many of the artists have made new works specifically for the exhibition; William Kentridge has completed a series of new anamorphic drawings, David Goldblatt has made a number of new photographs – using black and white for the first time in many years – and Berni Searle has completed a new film installation inspired by the well-known South African folk song 'Daar Kom Die Alibama (There Comes the Alabama)'.
The exhibition will be accompanied by a major publication with newly commissioned essays by Tamar Garb, Okwui Enwezor and Ivan Vladislavic.
To coincide with the opening of the exhibition, David Goldblatt and Tamar Garb will be in conversation at Tate Modern: Thursday 29 May 2008, 18.30-20.00, Tate Modern, Starr Auditorium, £8 (£6 concessions), booking required.
www.tate.org.uk
/ 020 7887 8888.
Artist's Talks and Guided Exhibition Tour
Artists participating in Home Lands - Land Marks: Contemporary Art from South Africa will be speaking about their work with the exhibition's curator Tamar Garb, Professor of Art History at UCL, on Saturday 31 May at Haunch of Venison.
11.00: Nicholas Hlobo and Berni Searle
14.00: Vivienne Koorland and Santu Mofokeng
These talks represent a unique opportunity to experience this exhibition in the presence of the artists.l