Barkow Leibinger
Revolutions of Choice
18 Jul - 04 Oct 2020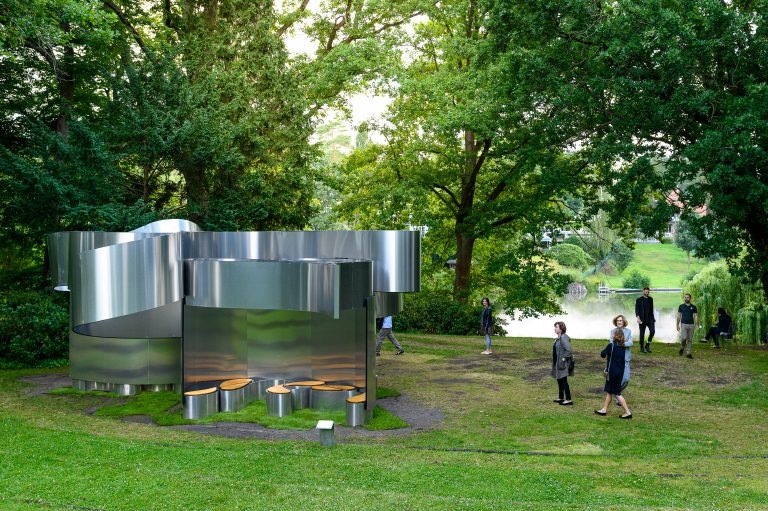 Barkow Leibinger, Summer House II, 2016/2020, Installation view, Haus am Waldsee, 2020, Photo: Roman März
With the exhibition Barkow Leibinger – Revolutions of Choice, Haus am Waldsee is presenting the work of the American-German architectural office of Frank Barkow (*1957) and Regine Leibinger (*1963) in the summer of 2020. After GRAFT, Haus-Rucker-Co and J. MAYER H., this is now the fourth internationally outstanding architectural position to reach a large audience at the Waldsee since 2010.

The centre piece of the exhibition in the sculpture park is the newly interpreted pavilion, which Barkow Leibinger developed in 2016 as a "Summer House" for the Serpentine Gallery in London. In front of the exhibition venue , visitors already come across a passage made of two concrete walls created by a new casting process using infra-lightweight concrete and which are used as an innovative building material by Barkow Leibinger.

In the house itself, shelving extend through the entire ground floor, which show a wealth of material studies and models. Text explanations are provided on the wall surfaces around them. Test ideas, experiments, models and prototypes are displayed and shown in a compressed form. One to one installation scale work can be seen in the rooms on the first floor. Visitors can physically experience this work in a very immediate and tactile way.

Curated by: Ludwig Engel and Katja Blomberg
Exhibition Catalogue: Katja Blomberg (Ed.), Ludwig Engel. Hardcover, 64 pages, Verlag Walther König, 24 Euro.

Press preview: Thu, 16 July 2020, 11 am. Frank Barkow and Regine Leibinger will be present.